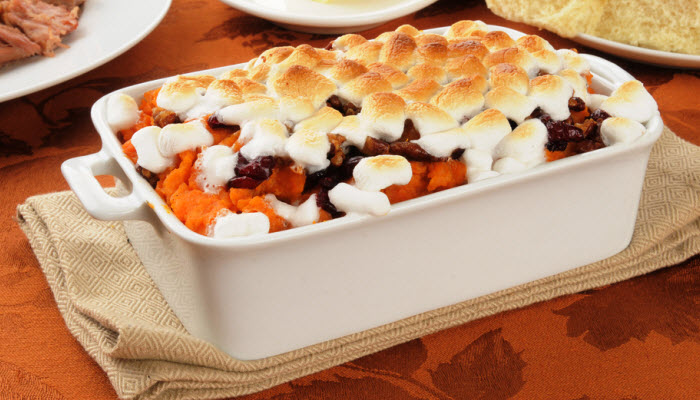 Sweet Potato Casserole with Pineapple and Marshmallows
The Backstory: Oh yes, you know this one: this is the retro sweet potato casserole that Bubbie or Grandma or some fabulous aunt of yours made every single Thanksgiving or Chanukah that had Maraschino cherries and pineapple rings and piles of marshmallows on top. It looked crazy fattening then (it was) and crazy delicious (it was) and you made fun of how silly-looking it was, but deep down, you loved it. Admit it–it was the first thing you piled on your plate (especially the marshmallows) and devoured. More of the Backstory after the recipe…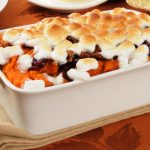 Sweet Potato Casserole with Pineapple and Marshmallows
Sweet potatoes are cooked to perfection and blended together with brown sugar, butter, vanilla, evaporated milk, a splash of pineapple juice and then baked with pineapple rings and a blanket of marshmallows for a knockout Thanksgiving side dish.
Ingredients
3

pounds

sweet potatoes

peeled and cubed

2

eggs, beaten

1

can

evaporated milk (4.5 ounces)

or 5 oz can (whatever you can find)

1/2

cup

brown sugar

5

tbsp.

melted butter

1

tsp.

pure vanilla extract

1

tsp.

ground cinnamon

1

can

pineapple rings (slices)

1/4

cup

reserved pineapple juice

from canned pineapple rings

large marshamallows

Maraschino cherries

optional
Instructions
Preheat oven to 350 degrees. Butter a 2-quart casserole and set aside.

Add potatoes to a large pot of salted water. Bring to a boil over high heat and reduce heat and simmer until potatoes are tender, cooking about 15-20 minutes. Drain potatoes and mash in a large bowl.

Add evaporated milk, melted butter brown sugar, beaten eggs, vanilla, cinnamon, 1/4 cup pineapple juice, and salt and pepper to taste. Pour into baking dish.

Top with 6-8 rings of pineapple slices (depending upon the size of your baking dish) and cover the top with marshmallows).

Bake for 25 minutes until marshmallows are golden brown. Check the dish during the last few minutes of baking to make sure the marshmallows don't burn. Let stand for five minutes before serving.
…The Backstory continues: I completely understand, and in fact, my husband insists that I make this dish for him every Thanksgiving (minus the Maraschino cherries, which, truth be told, I really don't understand, but, I'll allow him this one minor lapse in judgment).
There is something old-school, fabulous, decadent, indulgent, and absolutely sacred about this side dish and yet, I've made a very slight change to it that actually lightens it up (in texture) just a bit. The addition of evaporated milk adds a slight souffle touch to the casserole that you might not notice, except that it simply doesn't seem as heavy as it used to be. Does that make sense? It gives it a fluffier consistency, taste, and as a result, well, you just may eat a few more servings than you used to. Sorry about that!
As I photographed this dish for TJK, I had to laugh at just how Sixties the images were. Check out the pre-bake photo below and tell me that shot doesn't belong in an episode of Mad Men. Go on, tell me.
Please follow and like us: