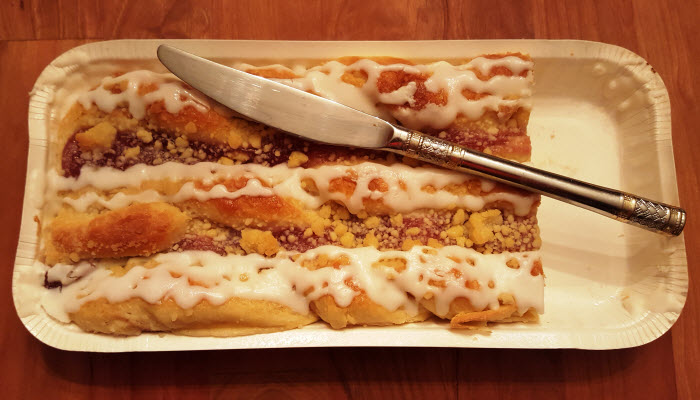 The Knife & The Entenmann's Box
Growing up in my house, there were a few food-related things you could bet your life on:
1. My dad's bagels were always in the kitchen in a brown paper bag. Anything with seeds had a bag of its own.
2. Mayo was used for two things and two things only: tuna and egg salad. Period.
3. The only birthday cakes we ever had were Carvel cakes.
4. If you had cheese on a sandwich you must have been eating a grilled cheese sandwich.
5. When someone opened up an Entenmann's cake, a knife went into the box and didn't come out until the cake had died.
I don't know what it is about Jews and the knife and the Entenmann's cake box but when I mentioned this to some friends a few weeks ago they all went into fits of reminiscent laughter and the next thing you knew, we were talking about our families' crazy rituals when it came to Entenmann's cakes. Who knew?
In my house, there were some standard favorites: my father loved the chocolate frosted donuts but insisted they be freezing cold and kept them in the fridge. i wasn't such a big fan of these myself, but now can really appreciate how well two (or three) of those bad boys could go down with a freezing glass of milk.
I was however, a huge fan of the raspberry danish you see pictured here, and I associate that most with the knife-in-the box story, although I think I also associate that story (whew, this really is a tale, now that I think about it) with my mother's two-decades-plus Mah Jongg group, which used to meet (and rotate houses, of course) every week. The "girls" as they liked to call themselves, would gather in each other's kitchens (lucky for me, my bedroom shared a wall with ours) and play for a few hours, once or twice a weeknight during my childhood.
Names like Marilyn, Elaine, Marlene, Harriett, Judy, Alice….along with their Louis Vuitton change purses and, back in the day, packs of Virginia Slims and Marlboro Lights (never mind the fact that my father had asthma) and sequin sweater and designer jeans, would traipse up the stairs, Gucci bags in hands, and park themselves in the kitchen.
My mother's buffet of tuna salad, egg salad, dad's to-die-for-bagels, lox, cream cheese, that night's Entenmann's selection (accompanied by the requisite knife in the box) would all be laid out with a pot of brewing Sanka and cans of icy cold Tab (I am really dating myself here), and later, bottles of Diet Coke.
The girls would gather around our round white kitchen table and sink into the leatherette and chrome chairs (very modern Jewish family meets the Staten Island Jetsons) to play. All night long, I would hear "Bam, Crack, East" or "Could you pass me a Sweet & Low?" from the other side of my wall and wonder just what was going on in there. Now and again I would find a reason to go into the kitchen for a glass of water, but the smell of cigarettes (or just the volume, don't ask) would usually send me back to my room fairly quickly. On my one or two trips, I'd always take note as to how the knife in the cake box would have not moved too much but the cake would have been gone by half.
By the next morning, the cake would be back in the fridge, the knife still there, and thus remain until the rest of us polished it off (which never took that long, of course). To this day, I can't even imagine an Entenmann's without a knife in the box. I fear it would just get lonely.
Seems like most of the women my age have similar stories (with different variety's of Entenmann's classics) and they all seem to have the knife and Mah Jongg in common. I think we should all get together and figure out what our mothers may have been doing on all of those New York (and Florida, Boston, Chicago, etc.) kitchens. At the very least, we could polish off a cake.
Until Next time,

Jodi


Jodi Luber
Founder & Editor-in-Chief
TheJewishKitchen.com

Please follow and like us: