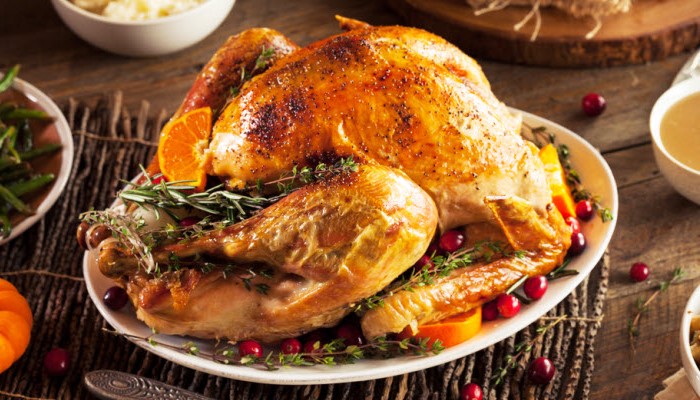 Classic Roast Turkey with Gravy
Our classic roast turkey with gravy has everything! Our easy, foolproof recipe delivers a scrumptious, elegant meal every time.
The Backstory: Does Thanksgiving roast turkey even need a backstory? I didn't think so either! More of the Backstory after the recipe…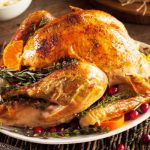 Classic Roast Turkey with Gravy
This Thanksgiving show stopper is easy to make and perfect every time. Just a few simple spices, one juicy orange and its own pan juices deliver the perfect holiday main course.
Ingredients
For the Turkey
1

12 pound

fresh Kosher turkey

or fully thawed frozen turkey

1+

cup

Kosher chicken stock or canned low salt chicken broth

for basting

1

orange

large

4

tbsp.

melted margarine

2

tbsp.

oil

1

yellow onion

medium, cut in quarters

1

bunch fresh thyme

Kosher salt

freshly ground black pepper

1

tsp.

paprika

kitchen twine
For the Gravy
2

cups

Kosher chicken stock or canned low salt chicken broth

1/2

cup

all-purpose flour
Instructions
Preheat oven to 350 degrees.

Remove giblets from turkey and thoroughly wash turkey inside and out, removing any excess fat and feathers. Pat the outside dry with paper towels.

Place turkey in a large roasting pan and generously salt and pepper the bird inside and out. Slice orange in half and fill the cavity with the orange, onion and thyme.

Mix melted margarine, oil and paprika and brush the outside of the turkey. Sprinkle with salt and pepper.

Tie turkey legs together with twine and tuck the wings under the turkey.

Roast Turkey uncovered for 2 1/2 hours, basting occasionally with its own juices. I like to pour a little chicken stock over the turkey once or twice during the cooking process when I baste (no more than a 1/4 cup) at a time, to create more gravy for later but you can omit this step if you choose.

The turkey is done when the temperature reaches 165 degrees on a meat thermometer when placed in the breast, or 180 degrees in the thigh.

Remove turkey from pan and let it rest on a cutting board for 15 -20 minutes, covered lightly in foil, before slicing. Serve with pan juices.
To Make a Thick Gravy
While the turkey is resting, place roasting pan across two stove burners on mdeium-high heat. Using a wooden spoon, stir the pan juices and brown bits on the bottom of the pan for about 8 minutes, until liquid thickens.

Add flour and cook for 1 minute until well blended. Slowly whisk in stock and bring to a simmer, stirring occasionally. Taste to make sure gravy does not taste too floury. If necessary, add water, 1/4 cup at a time, to thin gravy. Season with salt and pepper to taste.
That said, everyone has their own special way of spiffing up the star of this fabulous holiday meal, and to tell you the truth, I prefer my roast turkey with a simple preparation. I've tried so many different glazes, stuffings, and brines over the years but I keep coming back to the recipe you see here. I have a thing for oranges (all citrus, actually) and love the subtle zing it gives when combined with the thyme and the onion. I'm also partial to a very-well seasoned and crisp skin (and the paprika gives it a beautiful flavor and color), and you'll definitely  get that here.
…The Backstory continues: It's worth noting that it's extremely easy to under-season a turkey because of its sheer size–anyone can be afraid too use the amount of salt and pepper you truly do need to properly season it before cooking. Don't be afraid to use a little extra–a good 12-14 pound bird needs more than your standard roast chicken, so now's not the time to just sprinkle a little salt and pepper and hope it does the trick. Season well–inside and out.
This recipe makes a delicious pan juice and you can absolutely serve the turkey as is, with those gorgeous juices. I prefer to make the thicker gravy (as my family favors the whole gravy-in-the-middle-of-the-potatoes-thing), and so I take the extra few steps to make the thicker gravy (recipe below) while the turkey is resting after it comes out of the oven.
Either way, this is a classic, easy-to-prepare, and delicious recipe that you can turn to year after year for a delectable roast turkey that will wow your guests and anchor your holiday meal.
Please follow and like us: