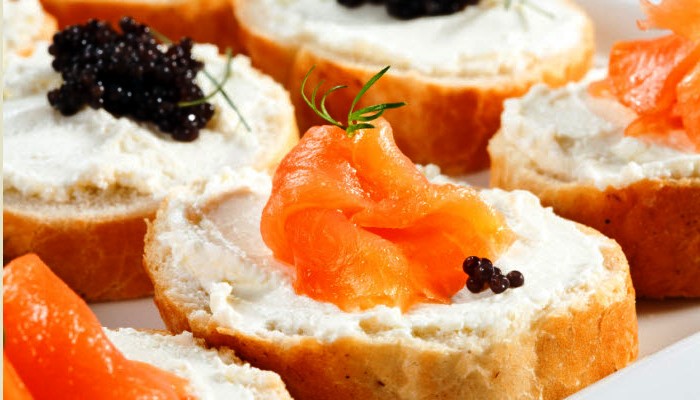 Smoked Salmon and Caviar Toasts
Smoked salmon and caviar toasts are a delectable, elegant appetizer that will wow your guests and are easy to make. What more could you ask for?
The Backstory: The first time I had caviar was at famed The Russian Tea Room in the late 1990s. The restaurant was, and still is, an over-the-top experience of pricey indulgences including (of course) caviar, vodka (pass), champagne (yes, please), blinis, those wonderful little buckwheat pancakes topped with sour cream and caviar (to die for), and a plethora of other delicacies. More of the Backstory after the recipe…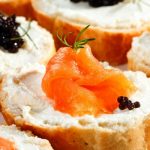 Smoked Salmon and Caviar Toasts
Baguette slices are toasted to perfection then topped with cream cheese, thin slices of smoked salmon and a dollop of caviar for an elegant an10d delicious appetizer that will wow even the most sophisticated crowd.
Ingredients
1

baguette

sliced into rounds

2

tbsp.

unsalted butter

1

8 oz. container whipped cream cheese

2

4 oz. package smoked salmon

100 grams good caviar

(about 4 ounces)

2

tbsp.

dill

for garnish
Instructions
Preheat oven to 400 degrees.

Melt the butter in microwave and brush the baguette slices one one side with the melted butter. Arrange baguette slices on baking sheet and bake for 10 minutes until golden brown.

Let baguette slices cool completely to room temperature. They can even be cooled and used later in the day to complete the recipe. Just keep them in a plastic storage bag or airtight container.

When cooled, (they must be completely cooled or the rest of the recipe will not work), spread about one-two teaspoons of cream cheese on each round.

On top of the cream cheese, add a heaping teaspoon of caviar to half of the baguettes and top the others with a piece of smoked salmon (I like to roll or curl up the salmon so it looks pretty on the cream cheese). Add a few tiny dots of caviar next to the salmon (see photo) for a nice decorative touch. Add a tiny sprig of dill if desired for garnish.

For an extra special finish, arrange baguettes on a silver platter and serve with flutes of champagne. Voila! Instant Russian Tea Room!
…The Backstory continues: Part of what makes the RTR such an experience is the room itself…gilded mirrors, velvet draperies, and sumptuous furniture and fabrics make the entire meal one of complete and utter hedonism. It's like dining with Henry VIII. Only without the mess.
I admit I was a little intimidated by the whole caviar thing…I always expected it to be extremely salty and something that you needed to have a certain palate to enjoy. I was wrong. There are so many different varieties of caviar that the trick is to sample as many different ones as you can and to find the one that you like. Many varieties are milder than others and can add a perfect  touch to smoked salmon, pasta, and even egg dishes. Many specialty food stores, cheese shops, and even markets such as Whole Foods often have caviar tastings and you can try several kinds at once. Find something you love and you'll see what the fuss is all about.
This recipe for smoked salmon and caviar toasts is a perfect way to ease into serving caviar. It's a simple crostini–a toasted baguette–that's allowed to cool to room temperature before given a dollop of whipped cream cheese, a thin slice of smoked salmon, and a touch of caviar. It's delicious, easy to prepare, and will bring a touch of elegance, old world charm, and the Russian Tea Room to your next party.
Please follow and like us: