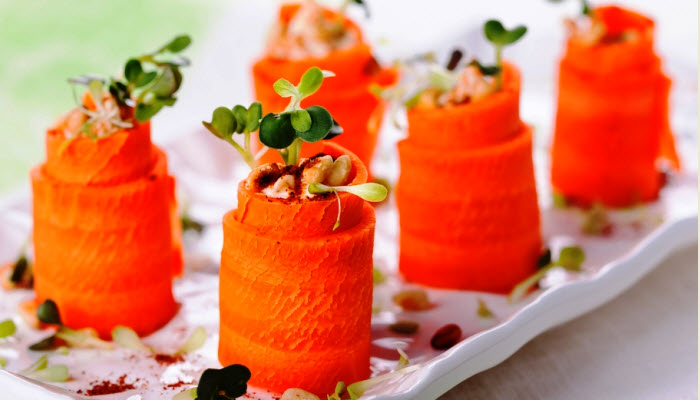 Carrot and Hummus Roll Ups
Carrot and Hummus Roll Ups are savory, delicious bites that are perfect make-ahead appetizers for parties and holidays.
The Backstory: Carrot and Hummus Rolls are a delicious light bite and finger food that are perfect as a party and holiday appetizer. These are easy to assemble and you can make them ahead of time and store them in the fridge (anything that I can make ahead, is a something I will turn to time and time again) before serving. They offer a very pretty presentation when plattered, so look for a large white serving dish to offset the orange color–it's quite dramatic if you make a lot of them. More of the Backstory after the recipe…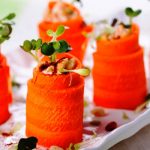 Carrot and Hummus Roll Ups
Fresh, crisp, and savory, these roll ups are a perfect finger food for your next party or holiday gathering. They take minutes to make and are a delicious combination of sweet and savory in a single bite.
Ingredients
6-8

large carrots, washed and peeled

1

cup

store bought hummus, any variety

microgreens, sprouts, or parsley

your choice

paprika for garnish

1/4

cup

pine nuts (optional)
Instructions
Using a wide vegetable peeler, peel 24 (or as many as desired) thick strips of carrot. One at a time, add one tbsp. hummus to the end of one strip of carrot and carefully roll up, allowing the hummus to act as a glue at the end of strip to close it up. Continue to roll up all strips and stand them up on a serving platter (or refrigerate until serving with plastic wrap on top).

If serving immediately, sprinkle lightly with paprika and insert a piece of sprout or microgreens on top of the roll up. (Do this just before serving if you are not using immediately). Sprinkle pine nuts over the roll ups and around the platter. Serve immediately.
…The Backstory continues: Another nice feature about this dish is that you can also use zucchini or yellow squash in addition to the carrots–pretty much any long vegetable that is easy to peel with a vegetable peeler will work as the roll to hold the hummus. The hummus acts like the glue to keep the vegetable roll together. A sprinkling of paprika, or, if you're feeling spicy, chili flakes (not advised if you're feeding kids), gives a little kick of flavor and color on top. Add some micro-greens or sprouts and you've got yourself a delicious finger food that's high on flavor, crunch, and curb appeal.
Please follow and like us: