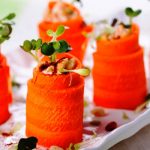 Carrot and Hummus Roll Ups
Fresh, crisp, and savory, these roll ups are a perfect finger food for your next party or holiday gathering. They take minutes to make and are a delicious combination of sweet and savory in a single bite.
6-8

large carrots, washed and peeled

1

cup

store bought hummus, any variety

microgreens, sprouts, or parsley

your choice

paprika for garnish

1/4

cup

pine nuts (optional)
Using a wide vegetable peeler, peel 24 (or as many as desired) thick strips of carrot. One at a time, add one tbsp. hummus to the end of one strip of carrot and carefully roll up, allowing the hummus to act as a glue at the end of strip to close it up. Continue to roll up all strips and stand them up on a serving platter (or refrigerate until serving with plastic wrap on top).

If serving immediately, sprinkle lightly with paprika and insert a piece of sprout or microgreens on top of the roll up. (Do this just before serving if you are not using immediately). Sprinkle pine nuts over the roll ups and around the platter. Serve immediately.