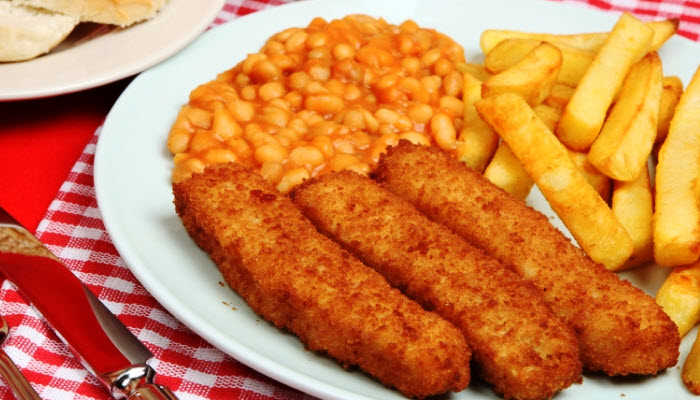 Crispy, flavorful and perfect for little hands to hold, these fish sticks will become thumbs-up favorite for even the pickiest eater.
The Backstory: When it comes to picky eaters, I know from which I speak. I have three children and they could not be more different when comes to what they will put in their mouths. My youngest son, now nine-and-a-half, has been eating things like sushi, Brussels sprouts, and just about anything I placed in front of him since he was in diapers. No lie. More of the Backstory after the recipe…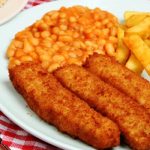 Fish Sticks for Kids
Crispy cod strips are coated in a Panko and Parmesan crust and baked to golden perfection. Serve with corn on the cob or beans and fries for a foolproof, kid-friendly meal.
Ingredients
1

lb

cod or other firm white fish, cut into 1 " x 3" strips

1/2

cup

panko bread crumbs

3

egg whites, beaten

1/2

cup

flour

Kosher salt and pepper

paprika

2

tbsp.

grated Parmesan cheese

non-stick baking spray
Instructions
Preheat oven to 400 degrees. Spray a baking sheet with non-stick baking spray. Set aside.

Set out 3 bowls. Beat egg whites in one bowl and set aside. Place flour, Parmesan cheese, a pinch of salt, pepper, and paprika in another bowl and stir together, and set aside. Put Panko crumbs in the third bowl.

Dip each fish stick in the flour, then the egg whites, letting the excess egg whites drip off. Then roll in the Panko crumbs, coating evenly. Place each fish stick on the baking sheet.

Bake for 14 minutes, turning the fish sticks halfway during the cooking, until golden brown.
…The Backstory continues: He is the perfect dining companion–at least when it comes to food. My daughter's palette has developed over time. She will eat all things fresh, such as fruits and veggies, which is a gift in and of itself, but it took a little longer for her to diversify her meals. Now, she is pretty much like her younger brother and I'm sure competitive sibling rivalry had something to do with it. In any case, both of them are a true pleasure to feed, take to a restaurant and enjoy whenever food is involved. I never worry about these two, they never go hungry, LOL. In fact, my daughter and I have a regular girls-only sushi night, which I treasure.
My eldest son, well, there's the rub. We are still dealing with a four menu repertoire of mac and cheese (the cheese has to be a certain color and texture), burgers (no seeds on the bun), grilled cheese (orange cheese only) and hot dogs (no grill marks). It's exhausting and limiting. This week, he ate scrambled eggs at his grandmother's house. I'm praying he'll eat them when he comes home. Fingers crossed. My point is, I know what it's like to deal with different kids who develop differently along the food scale and what a challenge it can be.
When my youngest son was about three-years-old, I made him these fish sticks all the time. He devoured them. I used to buy fresh cod for myself and bake it with crumbs and a little lemon juice and fresh herbs, and so I simply cut up a few pieces for him and next thing I knew, he was eating fish. I never bought frozen fish sticks because he liked these. So, I thought I'd pass this 5-minute recipe along to you.  He's a fish lover to this day: salmon, cod, pretty much anything that swims.
Please follow and like us: