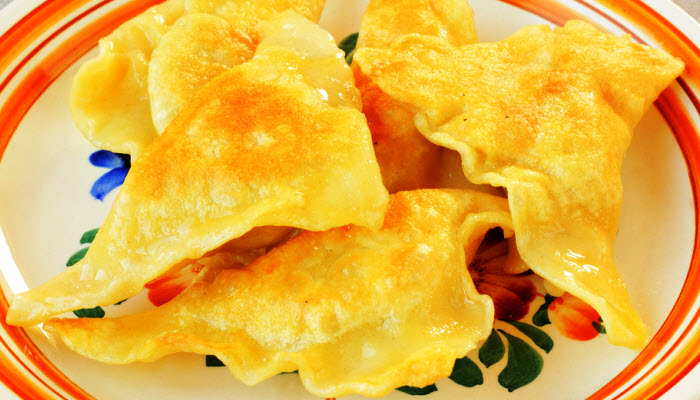 Fried kreplach are crispy, delicious, and completely addictive!  Consider these Jewish pot stickers…you won't be able to stop at one!
The Backstory: Everyone knows kreplach as those delicious soft dumplings that can be found swimming around in Bubbe's chicken soup, but kreplach can actually do more than fill up a soup bowl. When you think about it, kreplach is our version of a wonton, and what could be better as a holiday finger food or appetizer than fried kreplach? Delicious! So before you just relegate kreplach to the soup bowl, make some extras and fry them up for your guests. You'll have a delicious appetizer that your guests will love (and will probably go crazy for–who knew kreplach could be so versatile?) and better yet–your kids will actually love them. More of the Backstory after the recipe…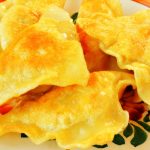 Fried. Kreplach
These delicious filled dumplings are tasty and a golden brown when fried. They are a perfect snack or holiday appetizer.
Total Time
2
hours
10
minutes
Ingredients
3

eggs divided

2 for the dough, 1 for the filling

2

cups

flour

1/4+

cup

water

1

tsp.

Kosher salt, divided

1/4

tsp.

black pepper

1

tbsp.

Kosher chicken fat

or oil

1/2

lb.

Kosher ground beef

or brisket meat, chopped very fine.

1

small white onion, chopped very fine

1

cup

good apricot preserves

1-2

tsp.

Dijon mustard
Instructions
In a large bowl, lightly beat 2 eggs and add 1/2 tsp. salt and 1/4 cup water. Slowly add the flour and mix gently, kneading as you go. Dough should be smooth, but not too dry. Add a little water if needed. Let rest in bowl, uncovered, for 30 minutes. While the dough is resting prepare the filling.

If using cooked brisket, just fill the dough with 1 tbsp. of brisket. Fold over the shape and press the edges down. If using uncooked brisket or uncooked ground beef, do the following: Heat chicken fat (or oil) in a large skillet and add the onions, 1/2 tsp. salt, and pepper. In a medium bowl, mix the beef with the egg and add to the skillet. Cook until meat is fully cooked. Let the meat mixture cool before filling the dough.

On a floured board, roll out the dough. Cut into 3 inch squares or circles, using a drinking glass or biscuit cutter, or cut into triangles. Fill each shape with 1 tbsp. of the meat mixture and cover each by pulling the dough over the filling and pressing down on the edges.

After filling the dough, let the kreplach dry on a plate or paper towels for about 1 hour. Boil water and add a little salt. Add the kreplach and cook for 15 to 20 minutes.

Heat 1/4 to 1/2 cup vegetable oil in a large skillet on medium heat. Fry kreplach for 3 minutes per side until golden brown. Watch to make sure they don't burn. Let kreplach drain on paper towels to absorb excess oil.

In a small bowl, mix apricot preserves with 1-2 tsp. of Dijon mustard. Mix well. Taste and add more or less mustard to your liking (you are looking for a sweet/sour balance). Serve with fried kreplach.
…The Backstory continues: For grown up tastes, I like to serve fried meat kreplach with an apricot/mustard dipping sauce, which couldn't be easier to make. Read below for both recipes. Enjoy!
Please follow and like us: