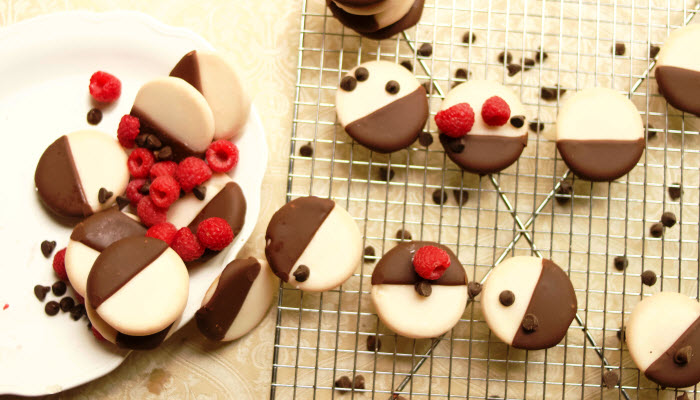 Whether you prefer the chocolate or the vanilla side, you'll love making these cookies at home!
The Backstory: What can I possibly say about Black and Whites except what anyone who has grown up with these cookies already feels at the center of their soul? For many New Yorkers, Black and Whites are a symbol of childhood: as familiar as bagels and lox, Bubbe and Grandpa, and just as beloved. Okay, maybe I'm exaggerating (a little), but for this writer, who grew up in a bakery and knows the difference between a real black and white and those shrink-wrapped things that are now wedged in between the chips and candy bars at gas station mini marts, it makes me sad to see the real McCoy reduced to mass produced schlock. More of the Backstory after the recipe…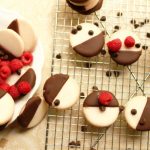 Black and Whites
This classic New York favorite is spongy, soft, and has hints of vanilla and lemon. Chocolate and vanilla frosting really are the icing on this melt-in-your-mouth cookie!
Ingredients
For the Cookies
1 1/4

cups

all-purpose flour

1/2

tsp.

Kosher salt

1/2

tsp.

baking soda

1/3

cup

buttermilk

3/4

tsp.

vanilla

5

tbsp.

unsalted butter, at room temperature

1

large egg

1/2

cup

sugar
For the Icings
2

cups

confectioner's sugar

1 1/2

tsp.

fresh lemon juice

adjust as you go per your taste

1 1/2

tsp.

light corn syrup

4

tbsp.

milk

1/4

cup

unsweetened Dutch-process cocoa powder
Instructions
Make the Cookies
Preheat oven to 350 degrees. Whisk the flour, baking soda and salt together in a medium bowl. In a separate cup, stir together the buttermilk and vanilla. Set aside.

In the bowl of a standing mixer of with a handheld beater, beat together the butter and sugar until fluffy and light yellow for about 3 minutes. Add the egg and continue to beat until well combined. Add the flour and buttermilk mixtures alternately at low speed. Scrape down the sides of the bowl occasionally. Mix until all of the ingredients are blended and the batter is smooth.

Using a small ice cream scoop or 2 tablespoons, scoop cookies 2 inches apart on a large, greased baking sheet. You can adjust your scoop to get 6-7 large or 12-13 medium sized cookies. Place baking sheet in the middle rack of the oven and bake for 15 minutes. Cookies will be puffy and golden and will spring back when you touch them. Transfer cookies to a wire rack with a layer of wax paper underneath it (to catch the excess frosting) to cool before icing (about 10 minutes).
Make the Icing
Mix the Confectioner's sugar, milk, lemon juice and corn syrup and milk together in small bowl until smooth. Put half of the icing into a separate bowl and add the cocoa, adding 2 more tablespoons (or more) milk, if needed to obtain the same consistency as the white icing.

To frost the cookies (you are frosting the flat side), use an offset spatula to frost one half of the cookie first. I like to frosting the vanilla side first, letting it set for five minutes and then frosting the chocolate side. I then go over the vanilla side again, lightly, while the cookies are lying flat on the rack and the chocolate is setting. A second layer of vanilla frosting allows the vanilla frosting to be a little more opaque, but this is optional. Store in an airtight container to keep fresh (up to 3 days).
…The Backstory continues: Black and Whites are a cross between a cookie and spongy cake. The frosting tastes like real frosting. It isn't crunchy (so gross) and yet it's not four inches thick like icing on a birthday cake. It's somewhere in between. There's a hint of lemon, but it's so subtle and you only seem to taste it on the vanilla side of the cookie. A good black and white doesn't get hard and crispy and crumbly on the edges. It manages to stay soft yet it has a bit of chew to it. I just can't explain it. It just is.
This recipe was given to me by Carol Goldsmith, of Akron, Ohio, before she passed away, many years ago. Carol was very involved in her synagogue and local volunteer organizations. I'm not sure if this recipe came from a Sisterhood cookbook or if it was one of her own. She graciously shared several recipes with me over the years, and this is one the very best.
Please follow and like us: