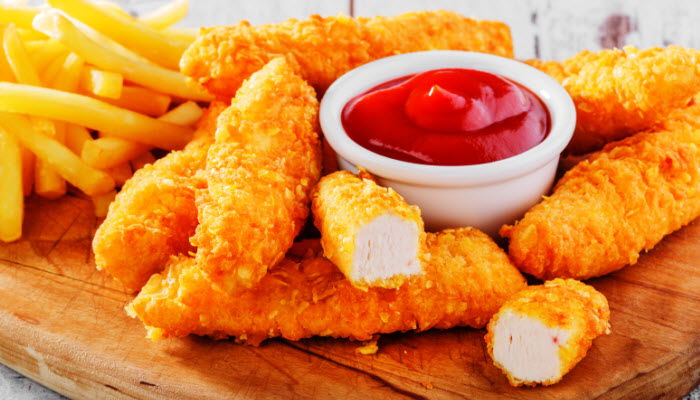 The Backstory: Whether you call them chicken fingers or chicken strips, the taste is still the same. These morsels of chicken are juicy, crisp and delicious. Add a dipping sauce or condiment of your liking, some fries or coleslaw, and I'd say, you've got the makings of a pretty tasty meal. And let's be honesty–this is a meal that all kids love, even the pickiest of picky eaters. So if you're parent who is struggling to get your kids to eat more than mac and cheese (been there, done, that), try this quick and easy recipe. More of the Backstory after the recipe…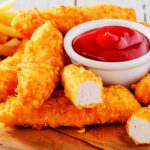 Chicken Fingers
Golden and crispy from baking or frying, these chicken fingers are tasty and satisfying and guaranteed to please even the pickiest eater.
Ingredients
1

lb.

Kosher boneless chicken breast, cut into 1 inch strips

or any other shapes

1/2

cup

flour

1

egg beaten with a little water

1 1/2

cup

panko bread crumbs, seasoned

1/2

tsp.

Kosher salt

1/4

tsp.

black pepper

1/2

tsp.

garlic powder

1/2

tsp.

paprika

non-stick baking
Instructions
Preheat oven to 350 degrees. Set out 3 shallow bowls. Put flour in one, beaten egg and water in another and panko in the last. In each bowl, add some salt, pepper, and garlic powder. Add a little paprika to the flour. Mix each bowl's ingredients. Have a large plate ready.

Place one strip of chicken in the flour and coat the strip, shaking off the excess flour. Dip the chicken into the egg next, letting the excess run off and then dip in the panko, breading the chicken all over. Place breaded chicken on a plate. Repeat with all chicken strips.

Cover a large baking sheet with aluminum foil. Spray with non-stick baking spray or brush with vegetable oil. Place chicken on baking sheet bake for 20 minutes. Serve immediately.
…The Backstory continues: Best of all, you can use delicious cuts of fresh chicken, control the salt and fat content, fry or bake them, and feel good about what you're giving to your children.This recipe calls for baking the chicken fingers but you can just as easily fry them in vegetable oil if you prefer. I try to keep a watch over fat content, so I opted to bake them. 
When I make these for my grandchildren, I always prepare some extras and freeze them in a plastic storage bag. This way, I'm always prepared for when they  arrive.
P.S. We all know that grownups like chicken fingers too. If you're planning on having a few of these yourself (and let's be honest, of course you are), try them with my delicious Honey Mustard dipping sauce, which is listed on this site-The Jewish Kitchen
Please follow and like us: