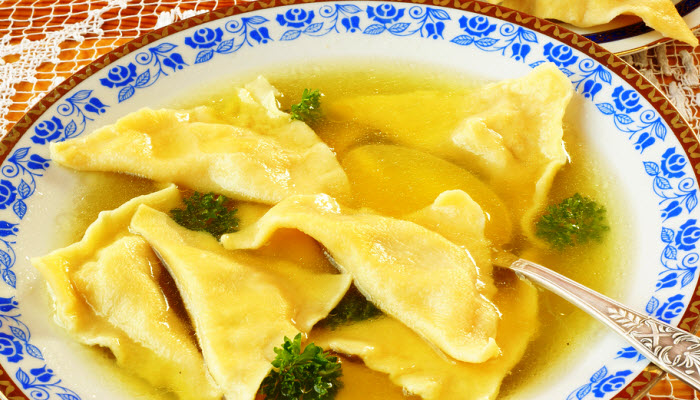 Chicken Soup with Kreplach
Tender dumplings in golden chicken broth are the cure for whatever ails you.
The Backstory: Kreplach, those delicious dumplings that bathe in our worshiped chicken soup, are one of the pillars of Jewish soul food. These meat filled pouches are also found in many different cultures around the globe and are just as treasured by others.  In Chinese culture, kreplach are known as wontons and are served in delicate soups or sometimes pan or stir-fried or eaten as a crispy snack. In Italian cooking, ravioli can be filled with meat, cheeses or combinations of spinach and cheese, (or many other delicious cheese, meat and vegetable combinations) and served with savory sauces, which are of course, fabulous for mopping up with crusty Italian bread. More of the Backstory after the recipe…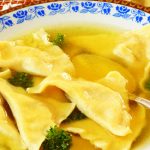 chicken soup with kreplach
These delicious filled dumplings are tasty and a little chewy. When boiled, they are pale in color. Fried, they take on a golden hue. Either way they are delicious in soup or as a snack unto themselves.
Total Time
2
hours
2
minutes
Ingredients
For the Kreplach
3

eggs divided

2 for the dough, 1 for the filling

2

cups

flour

1/4+

cup

water

1

tsp.

Kosher salt, divided

1/4

tsp.

black pepper

1

tbsp.

chicken fat

or oil

1/2

lb.

Kosher ground beef

or brisket meat, chopped very fine.

1

small white onion, chopped very fine
For the Chicken Soup
4

quarts

water

1

large Kosher chicken

1

large leek, trimmed and washed throughly

1

medium onion, peeled and cut in half

2

large carrots, peeled and cut in half

1/2

bunch, curly parsley

1/2

bunch dill

1

turnip, peeled

1

parsnip, peeled

1

stalk celery, cut into 1 inch pieces

1

tbsp.

Kosher salt

to taste

1/2

tsp.

black pepper

to taste
Instructions
Make the Kreplach
In a large bowl, lightly beat 2 eggs and add 1/2 tsp. salt and 1/4 cup water. Slowly add the flour and mix gently, kneading as you go. Dough should be smooth, but not too dry. Add a little water if needed. Let rest in bowl, uncovered, for 30 minutes. While the dough is resting prepare the filling.

If using cooked brisket, just fill the dough with 1 tbsp. of brisket. Fold over the shape and press the edges down. If using uncooked brisket or uncooked ground beef, do the following: Heat chicken fat (or oil) in a large skillet and add the onions, 1/2 tsp. salt, and pepper. In a medium bowl, mix the beef with the egg and add to the skillet. Cook until meat is fully cooked. Let the meat mixture cool before filling the dough.

On a floured board, roll out the dough. Cut into 3 inch squares or circles, using a drinking glass or biscuit cutter, or cut into triangles. Fill each shape with 1 tbsp. of the meat mixture and cover each by pulling the dough over the filling and pressing down on the edges.

After filling the dough, let the kreplach dry on a plate or paper towels for about 1 hour. Boil water and add a little salt. Add the kreplach and cook for 15 to 20 minutes. When finished cooking, these can be added to soup or fried in vegetable oil to a golden color.
Make the Chicken Soup
Clean the inside and the outside of the chicken and pat dry. Place the chicken in a large soup pot. Add 4 quarts of cold water. Bring to a boil. Skim off any of the scum. Add the rest of the ingredients to the pot, except for the parsley and dill.

Cover the pot and cook for about 1 hour on medium to low heat. Stir occasionally. Meanwhile, wash and shake dry the parsley and dill. Tie the two bunches together using butcher's twine. Set aside.

After the hour of cooking, add the parsley and dill. Cover and simmer for 30 minutes more. When done, place the parsley and dill in a deep serving bowl. Add the rest of the veggies to the bowl.

Remove the chicken to a separate dish. In each soup blow place 2 kreplach and ladle in some soup, and serve. Serve reserved veggies on the side.
Recipe Notes
Note:  This dough can also be used for making noodles. Simply roll out the dough on a floured board (roll thin). Roll the dough up like a jelly roll and thinly sliced into noodles. Bring a pot of salted water to a boil and cook noodles for 5 minutes (check for doneness) at 5 minutes. You can cook longer as per your desired tates.
…The Backstory continues: And the list goes on and on.
The one thing these tender pockets all have in common is that they are made with a dough that is basically the same recipe and the resulting dumplings are often quite similar in shape.  The filling is typically meat-based.  Other cultures may vary by a few ingredients, but the recipe and cooking principles are similar.
A cousin of my father's was at one time in her life, a professional cook.  She sometimes cooked for my mom.  She made the most magnificent kreplach for our family, and my sisters and I would go crazy every time. I remember that even though they were served to us in hot chicken soup, the leftovers were stored in the refrigerator.  I sneaked many of them out of the fridge and enjoyed them ice cold.  But most of all I remember them in my Mom's Chicken Soup. I don't know which I preferred better the kreplach or the matzo balls that she would make to go with her delicious chicken soup. They are both delicious, but each one brings a different taste to the soup. The matzo balls are usually soft with a hint of seasonings. The kreplach are made with a dough and usually more chewy, but the filling makes up for the chewiness. Either way you prefer your soup, there should be enjoyment into biting into the matzo balls or the kreplach. They are both on par with each other.
For this recipe I use ground beef.  I find the ground beef easier to work with but if you have leftover cooked brisket, that would be the best choice.  That's my opinion, and I am sticking to it.  Either way, enjoy.
Please follow and like us: