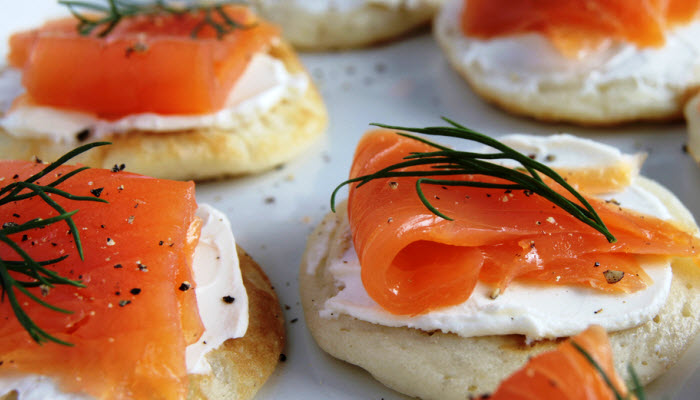 Blini with smoked salmon are elegant appetizers that hit on all fronts: salty, creamy, and perfect two bite noshes.
The Backstory: I first went to The Russian Tea Room in 1999. I was 35 years old and as a born and bred New Yorker, I had always wanted to go when I lived in New York but never had. In fact, by the time I actually made it there, I was living in Chicago and was visiting New York on business. I grew up hearing stories about the many celebrities and hoi-polloi  that lunched and dined at the fancy West Side establishment, and how it had changed hands several times, and all the drama that ensued as a result of this high society wheeling and dealing. More of the Backstory after the recipe…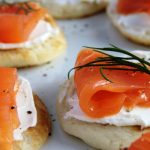 Blini with Smoked Salmon
Delicate pancakes are topped with thinly sliced smoked salmon, a dollop of sour cream, and a sprig of dill for an elegant first course or party appetizer. Plated on a silver tray, these two-bite delicacies are about as fancy (but easy-to-make) as it gets.
Ingredients
3/4

cup

all purpose flour sifted

1/4

tsp.

Kosher salt

1/3

tsp.

baking powder

1/2

cup

milk

1

large egg, slightly beaten

4

lemons

sliced into wedges

2

cups

sour cream or creme fraiche, plus extra for garnish

dill sprigs, for garnish

10

slices

smoked salmon

vegetable oil for greasing griddle
Instructions
Before you start, get sour cream or creme fraiche ready. Prepare the salmon by blotting it lightly with paper towels to remove excess oil. Cut each slice into thirds and set aside.

Sift together the flour, baking powder, and salt in medium bowl. Add the milk, egg, and sour cream and stir well.

Heat a griddle on medium heat and brush with vegetable oil. Pour 1/8 cup measures of batter onto hot pan and make the pancakes very thin. Brown on both sides, turning only one time. Place pancakes on platter and keep warm under a towel.

Top each pancake with a dollop of sour cream and a slice of smoked salmon. Garnish with a sprig of dill. Serve immediately with lemon wedges on the side (optional).
…The Backstory continues: There were big personalities attached to the restaurant (as only a restaurant in NY could have) and through the years, the ownership and management of the place) seemed to be as infamous as its platters of blini with smoked salmon and icy bottles of champagne and vodka.
Nonetheless, by the time I finally sat down for brunch in one of the Tea Room's infamous red leather booths and took in the glitzy mirrors, I was enamored. The meal was delicious, the rose champagne, icy cold and perfect, and the salmon paper thin, buttery, and as delectable as the melt-in-your-mouth blini. It was, in short, pure heaven.
The Russian Tea Room later closed down in 2002 and after a multi-million-dollar makeover and change of ownership and management (once again), reopened  in 2006. Friends of mine have been back since the re-opening but I'm told the food and service are not the same, although the glitz, mirrors, and over-the-top decor remain. I've not been back but my memories of a glorious meal endure.
Following is a recipe for quick blinis. Add some thinly sliced smoked salmon, sour cream or creme fraiche, and of course, some excellent champagne, and you can create a little Russian Tea Room magic of your own. This recipe is well worth the effort and truly does not take that much time for the stellar results. Have all your toppings ready and the rest is easy.
Please follow and like us: