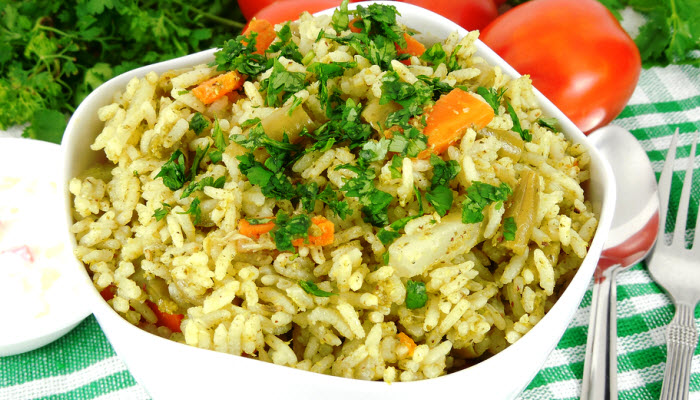 The Backstory: This rice pilaf recipe is so rich in seasonings and all the veggies that makes it a dish I prepare all the time.  I was interested in learning about the main ingredient, rice. I decided to do some research. I find it so interesting tracing the history of whatever I am posting.  On one occasion, I learned that rice was rarely used during the Middle Ages because it was too expensive. That is when Bulgur wheat was substituted. This was considered a poor man's food.  In the Middle East, families of modest means used rice for special events. Also, rice was introduced to Italy from Spain, during the Renaissance, which started in Europe during the middle of the 1400s to the late 1700s.   More of the Backstory after the recipe…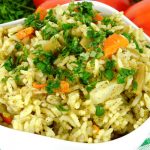 Rice Pilaf
With the spices and the sweetness of the dried fruit combinations, this tasty side dish is a delight to the palate. It is a wonderful partner to any meat, fish or poultry dinner.
Ingredients
2

tbsp.

olive oil

1

garlic clove, minced

1/4

cup

chopped onions

1/4

cup

chopped carrots

1/4

cup

chopped green pepper

1/4

tsp.

turmeric

or coriander, cumin, cinnamon

1

cup

Jasmine rice

or basmati rice

1 1/2

cups

Kosher chicken stock

1/2

tsp.

Kosher salt

1/4

tsp.

black pepper

1

tsp.

fresh parsley

2

tbsp.

dried fruit

raisins or apricots

chopped almonds

for garnish
Instructions
In a large pot, on medium heat, heat the oil and saute the garlic, onions and green peppers. When soft, add the turmeric, salt and black pepper. Mix for about 20 seconds to incorporate the seasonings. Add the rice, stirring constantly for about 3 minutes.

When a little translucent, add the chicken stock, stirring constantly. When it comes to a boil lower heat to a simmer. Cover the pot and cook for 12-15 minutes. Do not stir. Remove from heat.

Fluff the rice with a fork. At his point add the parsley and the dried fruit. Place in a pretty serving dish and sprinkle the almonds on top. Enjoy!
…The Backstory continues: Today rice is a basic staple in Italian cooking and in Chinese and Indian cultures, rice is a mainstay of the diet and their delicious cuisines. For as many cultures that use rice, there are a myriad of recipes. I find it so interesting that rice has spread far and wide throughout the world as a dietary staple of so many cultures, yet it never became a daily food source for Jews.
Considering how we love our carbs, well, you do the math.
Here is one of my favorite rice dishes that works perfectly for chicken, fish, or meat.
Please follow and like us: