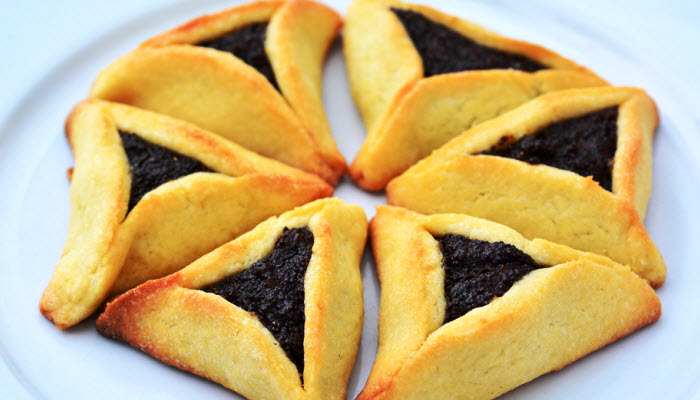 This is the easiest, foolproof recipe for prune Hamantaschen! Soft, buttery, and just enough crispness at the edges!
The Backstory: Oh, how I love prune Hamanttaschen. Even as a kid, when our Hebrew school teachers brought out these tasty treats on Purim and my classmates clamored for the prettier raspberry and apricot varieties, I always made a beeline for the pile of prune cookies. It's pretty ironic, since there were a good number of years when my mother used to chase me around the house with a glass of prune juice, to try to calm my not-so-calm tummy and I could never get a mouthful of that stuff down, but for some reason, when prunes are cooked, wilted, and baked soft and luscious into these buttery cookies, I'm a goner.  More of the Backstory after the recipe…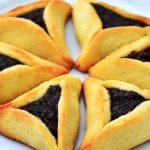 Prune Hamentaschen
Delicate butter pastry surround a sweet , rich, and chewy prune filling that's sure to become a Purim favorite for years to come.
Ingredients
For the Dough
4

cups

all-purpose flour

3

tbsp.

baking powder

3/4

cup

sugar

1/4

tsp.

Kosher salt

4

eggs

1/3

cup

vegetable oil

zest of one lemon or orange
For the Filling
1

lb.

pitted prunes

2

tsp.

freshly squeezed

zest of one medium lemon

2

tbsp.

Cointreau (optional)

1/2

cup

chopped walnuts (optional)
Instructions
Soak prunes several hours or overnight. Cook until soft in a pot of simmering water. Drain and finely chop. Add the rest of ingredients and mix well. Set aside.

Mix and sift dry ingredients. Add eggs, oil and lemon zest. Mix well. Knead until smooth. Roll out an a floured board to 1/8" thickness. Cut into 4" rounds.

Place a spoonful of filling in the center of each circle. Bring edges together to close tightly. Bake for 30 minutes at 375 degrees.
…The Backstory continues: There's nothing that makes me happier than baking Hamantaschen with my three children, and while we always make different flavors–usually raspberry and sometimes, I admit, we break down and try something new (this year we used Nutella and it was not a big hit–the kids gobbled up the raspberry and left the Nutella on the plate, all week long), I am still a traditionalist at heart. Raspberry, apricot and prune. That's my repertoire and I'm sticking to it.
This recipe comes to from my late cousin, Shirlee Feldberg. It first appeared in her Sisterhood's Kosher cookbook from Congregation Shaarey Tfiloh, (Spring Valley, New York). Thank you, Big Lennie, for permission to reprint the recipe here. Big hugs to you.
Please follow and like us: