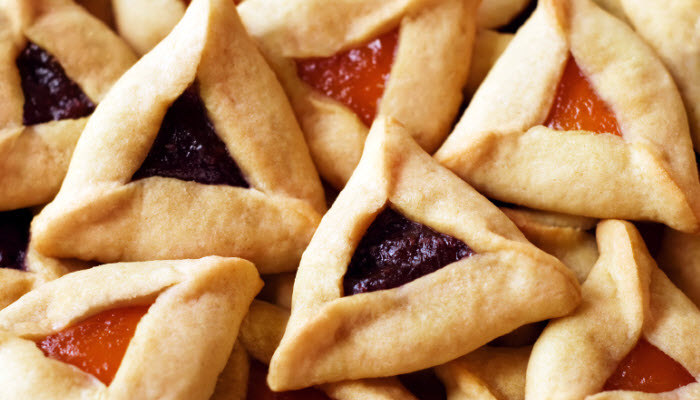 Raspberry and Apricot Hamantaschen
Traditional raspberry and apricot hamantaschen hit all the sweet notes for a buttery, perfect Purim cookie that's fun to make with the kids!
The Backstory: Baking cookies with the kids has to rank as one of my all-time favorite pleasures in life, and making Hamentaschen at Purim is at tippy-top of even that list. By the time this activity rolls around, the kids are so excited for Purim–they've had a few weeks of preparation at Hebrew school, they've made costumes for their annual Purim carnival, (not to mention noisemakers!) they've been learning about Queen Esther, Haman, the Maccabees, and they bring these conversations to our dinner table. By the time I casually ask if anyone is interesting in making Hamantaschen, they're about ready to explode. More of the Backstory after the recipe…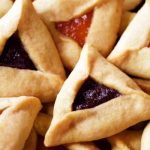 Prune Hamentaschen
Delicate butter pastry surround sweet centers of raspberry and apricot preserves. These traditional melt-in-your-mouth cookies are perfect gifts to bring on Purim or for serving to guests.
Ingredients
For the Dough
4

cups

all-purpose flour

3

tbsp.

baking powder

3/4

cup

sugar

1/4

tsp.

Kosher salt

4

eggs

1/3

cup

vegetable oil

2

tbsp.

lemon zest (approx. 1 large lemon)

Confectioner's sugar for dusting (optional)
For the Filling
1/3

cup

good raspberry preserves

1/3

cup

good apricot preserves
Instructions
In a large bowl, combine the the dry ingredients, sifting as you mix them. Add the eggs, oil and lemon zest. Mix well. Knead dough until smooth. Roll out an a floured board to 1/8" thickness. Cut into 4" rounds using a biscuit or cookie cutter or a large glass.

Place a spoonful of preserves in the center of each circle. Bring edges together to close tightly. Bake for 30 minutes at 375 degrees. Let cool on rack for 15 minutes. Dust with Confectioner's sugar (optional).
…The Backstory continues: Anytime my kids are excited about learning about their Jewish roots and history and I can see their learning blossom, whether it's through discussion, crafts, or cooking, it truly warms my heart. It makes me appreciative of just how many people in our community touch our children's lives and help to keep our culture alive, well, and moving on to the next generation. As a parent, I can't ask for more than that.
Please follow and like us: