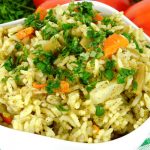 Rice Pilaf
With the spices and the sweetness of the dried fruit combinations, this tasty side dish is a delight to the palate. It is a wonderful partner to any meat, fish or poultry dinner.
In a large pot, on medium heat, heat the oil and saute the garlic, onions and green peppers. When soft, add the turmeric, salt and black pepper. Mix for about 20 seconds to incorporate the seasonings. Add the rice, stirring constantly for about 3 minutes.

When a little translucent, add the chicken stock, stirring constantly. When it comes to a boil lower heat to a simmer. Cover the pot and cook for 12-15 minutes. Do not stir. Remove from heat.

Fluff the rice with a fork. At his point add the parsley and the dried fruit. Place in a pretty serving dish and sprinkle the almonds on top. Enjoy!