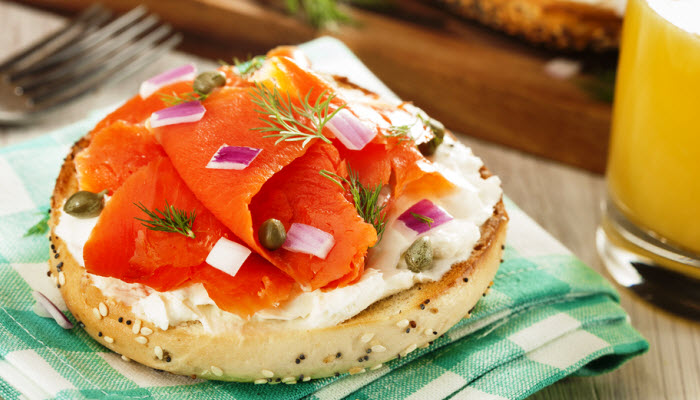 The perfect marriage of two Jewish culinary staples. What more can we say?
The Backstory: Admit it: there is no more perfect meal than this.  A perfectly baked everything bagel, all hot, chewy, and just a few minutes out of the oven (okay, toasted, if you prefer), topped with cream cheese, a thin layer  (yes, that's my issue again, I can't stand thick sandwiches) of smoked salmon (Nova, of course), and dotted with just a few pieces of red onion. More of the Backstory after the recipe…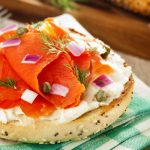 Bagel & Schmear
A perfectly baked bagel is sliced open, toasted, and topped with cream cheese, smoked salmon, and dots of chopped red onion for the perfect open-faced sandwich.
Ingredients
1

fresh bagel

not frozen

1-2

tbsp.

cream cheese

2

slices

smoked salmon, thinly sliced

Nova preferred

1

tbsp.

diced red onion

capers if desired (for garnish)
Instructions
Slice and toast bagel. Allow to cool for 2-3 minutes.

While bagel is cooling, blot the smoked salmon to remove excess oil and set aside.

Place each bagel half on a plate and smear each half with cream cheese. Lay a slice of smoked salmon on each half and top with diced red onion. Garnish with and capers if desired.

Pure heaven...enjoy!!!
…The Backstory continues: I'm dying just thinking about it. Someone, please, get me a Diet Dr. Brown's Cream soda (in a glass with ice) before I pass out.
OMG, there's nothing better. Of course the bagel would be from my dad's shop (What? You thought it could come from someplace else?) and the soda would be screaming cold and the lox would be paper thin and the bagel would be warm enough to be still be warm, but not hot enough to melt the cream cheese (absolutely a deal-breaker…send it back if the cream cheese is melted.)
Seriously, if there's one thing on this earth I know how to do, it's how to make this sandwich (which you eat open-faced, as in two halves, face up, two pieces, not one big thing smushed together like some peasant who has no idea how to eat a bagel, thank you very much.
So here's how to do it like a Jew. Or a non-Jew and who will enjoy it like a Jew.
Please follow and like us: