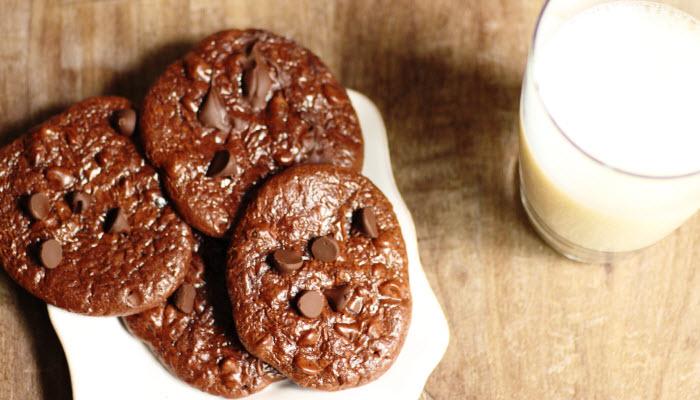 Flourless Chocolate Cookies
Flourless chocolate cookies are rich, decadent and so delicious, you'll never miss the flour. Watch your younger guests gobble these up! These are fudgy and moist beyond belief.
The Backstory: It's easy to think of Passover – aside from its historical significance – as a time of sacrifice. The thought of bidding farewell to breads and grains in favor of matzah and maror doesn't exactly elicit much gastronomic excitement. Our flourless chocolate cookies are anything but a sacrifice! More of the Backstory after the recipe…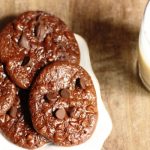 Flourless Chocolate Cookies
The moist, dense, and molten-like cookies are so densely chocolate, they're almost impossible to describe. Picture brownie batter mixed with the ultimate chewy cookie, and you'll be close to imagining how good the final product actually is.
Ingredients
3

cups

powdered sugar

3/4

cups

cocoa powder

1.5

tsp

Kosher salt

2

egg whites

1

egg

1

tsp

vanilla

2/3

cups

chocolate chips
Instructions
Preheat the oven to 350 F and line two baking sheets with parchment paper.

Whisk together the sugar, cocoa and salt in a medium bowl. Add egg whites, egg and vanilla and whisk until smooth. Stir in chocolate chips. It will be difficult to stir the dough but don't give up--the results are so well worth it.

Drop dough by tablespoons onto the prepared baking sheets.

Bake for 10-12 minutes, until the cookies are just set. They will be puffy and cracked.

Let cool on cookie sheets for ten minutes, then transfer to a cooling rack to cool completely.

Store tightly wrapped at room temperature up to five days.
Recipe Notes
If you want to make a large batch, simply double the measurements.
For round cookies, use an ice-cream scoop when placing the batter on the baking tray.
Pack in an airtight container to keep the cookies for longer.
…The Backstory continues: This recipe, however, may be the remedy for your sweet tooth during those 8 days in Nisan. I don't know about you, but during Pesach, I have wild cravings for cakes, cookies and pastries (even though I don't often eat them throughout the year). The best part about these cookies is that you probably have all the ingredients in your kitchen right now. And, if you have around 20 minutes to spare, you could be snacking on these glorious treats in no time.
Guests coming over? Whip these cookies up as an easy, gluten-free snack anytime of year. The downside, however, is that they are highly addictive, so don't blame me when you find yourself cooking up another batch to replenish the empty cookie jar.
Note from Jodi Luber: I made this recipe for the first time for Passover 2017. I was truly blown away by the results. The batter is a bit difficult to stir because the dough itself is dense and very moist, due to the lack of flour. It looks like a deep, rich brownie batter before you even spoon out the cookies on a baking sheet. When they come out of the oven, all puffy and crackled, they are a site for sore eyes, with molten-like rich chocolate centers. I allowed mine to cool for 10 minutes before taking them off the baking sheet to a cooling rack. Cut into a cookie or break one in half, and the insides are gooey, chocolate middles, just like brownie batter itself, only the cookies are fully baked. They are absolutely delicious with that perfect chewy edge and soft, rich center. 10 on a scale of 1-10.
Please follow and like us: