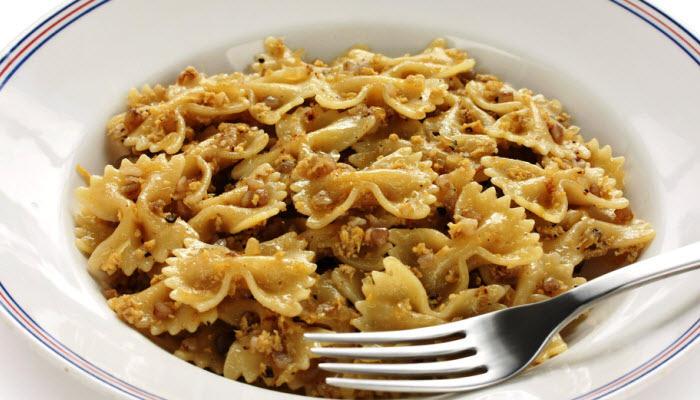 ---
The Backstory: I have heard and read so many touching stories about how a beloved family member – usually a grandmother – made/makes Kasha Varnishkes that the very taste brings back wonderful childhood memories. Unfortunately, I have no such story to share because – yes, I'm going to admit it – I have never tasted Kasha and Bows. More of the Backstory after the recipe…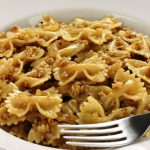 Kasha Varnishkes
This traditional and delicious side dish combines al dente pasta with grainy kasha to deliver old-world comfort food goodness. The recipe can be be made ahead and stores beautifully as leftovers. It can be served hot, warm or at room temperature.
Ingredients
2

tbsp

vegetable or olive oil

1

medium onion

1

large carrot

diced into ¼-inch pieces

2

cups

creminis (baby bella mushrooms)

thinly sliced

3

cloves

garlic

minced

1

cup

kasha

1

egg

2

cups

beef, chicken or vegetable stock

1/2

pound

bowtie pasta

cooked according to package instructions

Kosher salt and pepper to taste
Instructions
Heat oil, then sauté onions until soft. Add carrots and cook until the onions take on some color. Add mushrooms, then garlic. Sauté for 2 more minutes.

Meanwhile, mix kasha with eggs and seasonings. Add the kasha egg mixture to the sauté pan with the vegetables and cook over medium heat until dry looking and kernels separate. Add stock and cook, covered, until liquid is absorbed and kasha is tender, about 12 minutes.

Mix in bowties.

Serve with ketchup or gravy.
Recipe Notes
If you choose to use chicken fat, use just enough in which to cook the onions
You can cook your onions for slightly longer, until they begin to brown
If you don't want to use stock, use the liquid from simmering 1/2 ounce of dried porcini mushrooms in 2 1/2 cups water, or, if all else is unavailable, water.
…The Backstory continues: So, I set out on a mission to find out what this traditional Eastern European Jewish dish is all about. My first thought was where I would find kasha, which are buckwheat groats. I came across them at a local Jewish supermarket and, with mushrooms and farfalle, I headed to the kitchen.
A traditional comfort food for Russian Jews, Kasha Varnishkes were brought to the United States by immigrants. The kasha and bowtie pasta are prepared separately in this extremely easy recipe.
After cooking the vegetables, you add in the egg-coated kasha and the dish begins to smell aromatic and somewhat nutty. I mixed in the farfalle and was so impressed by the simplicity of this recipe.
Not knowing what to expect, I took a bite and really enjoyed the dish. There is a lovely contrast of textures with the soft pasta and grainy kasha. While authentic Kasha Varnishkes entail cooking the mushrooms in chicken fat, this is a healthier option that is high in fiber, very tasty and would make an excellent addition to any menu.
Please follow and like us: