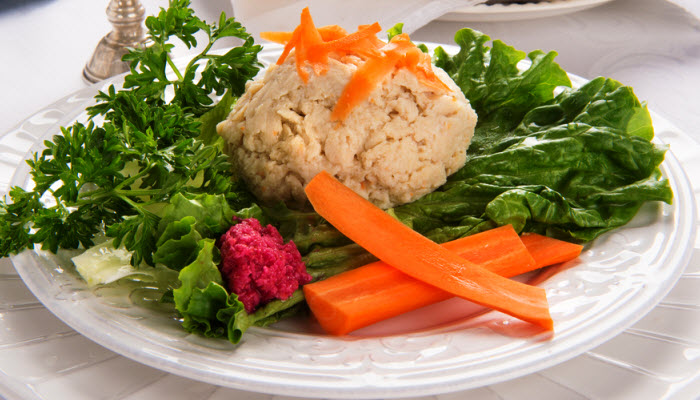 Make perfect gefilte fish every time with this simple recipe that's light, flavorful and foolproof!
The Backstory: Gefilte fish is just one of those things that you just have to see in the background over a period of years, sort of like 1970s paneling or very bad shag carpeting, spend your entire childhood years adjusting to, in order to not be traumatized by it, especially if it you grow up with the jarred variety a la Abby Normal in Young Frankenstein. More of the Backstory after the recipe…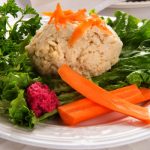 Gefilte Fish
Mild fish is ground with onions and spices and simmered in fish stock to form a light and delicate gefilte fish. Serve with spicy horseradish for a classic Passover first course.

Prep Time 30 minutes

Cook Time 3 hours

Total Time 3 hours 30 minutes
Ingredients
For the fish
3 pounds pike, white fish and carp, mixed to taste (have fishmonger remove heads and bones and reserve for making stock)
1 medium yellow onion
3 large eggs, beaten
2 tbsp. Kosher salt
1/2 tsp. white pepper
1 tsp, sugar
3 tbsp. matzo meal
For the broth
fish heads and bones
2 quarts water
1 medium onion, quartered
2 large carrots, peeled and sliced
1 stalk celery
1 tsp. Kosher salt
1/2 tsp. white pepper
1 pinch sugar
Instructions
Have your fishmonger remove the heads and bones from enough fish to yield five pounds of white fish, pike and carp. Rinse the heads and bones thoroughly and set them aside for the broth.

Grind the fish and onion using a hand grinder or food processor. Place in a large bowl and add eggs, salt, pepper, sugar, and matzo meal. Gradually add in water and stir. Slowly add in matzo meal and stir until well blended. Add more seasonings and water if needed.

Knead mixture with hands until firm enough to form oval balls that hold their shape at approximately 3 inches in length. Make the fish balls and set aside.

Place fish heads and tails in a large stock pot or Dutch oven with 2 quarts of water. Add salt, pepper and pinch of sugar.

Boil uncovered for 30 minutes.

Remove solids and strain and return liquid to pot. Add sliced carrots and onion.

Carefully place the fish into the broth. The liquid should cover the fish. If not, add more water.

Cover and bring to a boil. Uncover, reduce heat, and simmer for approximately 2 1/2 hours or until the stock has been reduced to less than half.

Gently remove the gefilte fish and place in a large glass pan with sides (like a 9 x 13 glass baking pan).

Strain the stock and pour over the fish. Cool and refrigerate until the stock gels.

Serve with horseradish, sliced carrots, matzoh, and enjoy!
…The Backstory continues: It's just one of those things that from the outset, is not that appetizing. Maybe around the age of 12 or 13 you might taste it (and regret it) or with a little luck, the grown ups at the Seder table stop asking you if you'd like some and instead turn their attention to whether or not you have a girlfriend or boyfriend and spend their time pulling apart this wonderful piece of your miserable life for the next ten years while you remain at the kids' table (age of graduation from this seating assignment: college graduation or engagement).
For a non-Jew, I don't see how anyone could even touch this stuff; I really don't.
As an adult, I can tell you that perfectly made gefilte fish is delicate, delicious and worthy of a place at the table.
The recipe below is foolproof. I would love to tell you where I got it but I can't: it was given to me about 10 years ago, I stuck it in a recipe folder, fished it out (no pun intended) one day, and made it. It was hand-written on an index card and I have no idea whose writing it is. I wish I knew because I'd very much love to give credit where credit is due. This is s simple. classic, no fuss recipe. It works every single time and will make approximately 18 pieces of perfectly most, light, and delectable gefilte fish.
Please follow and like us: