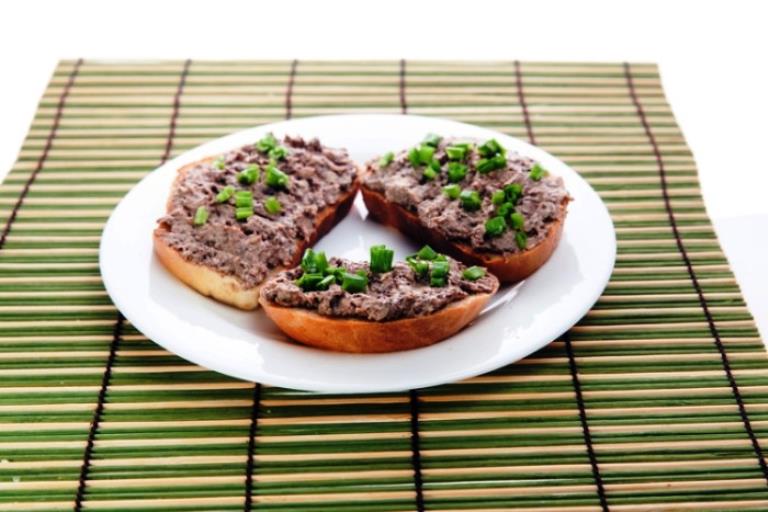 Nana's Kosher Perfect Chopped Liver
Nana's perfect chopped liver is the only chopped liver recipe you'll ever need. It's creamy, classic, and works as a dip, spread, or filling for sandwiches.
The Backstory: My Aunt Sandy makes the most wonderful, melt-in-your-mouth, smooth, creamy and delicious chopped liver. Whenever anyone complimented her on it, she always said the same thing, "It's Nana's perfect chopped liver." More of the Backstory after the recipe…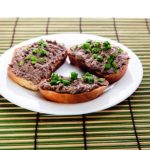 Nana's Chopped Liver
This classic recipe remains in style and delicious with simple, tried and true ingredients. Beef liver is ground with sauteed onions and hard-boiled eggs into a creamy spread worthy of a first course on a bed of crisp lettuce or as everyone's favorite dip with crackers or crusty rye bread.
Total Time
2
hours
30
minutes
Servings
1
very large party platter
Ingredients
3

pounds

Kosher beef lilver

7

medium

onions (or 5 large)

peeled and sliced into rings

2

hard boiled eggs, mashed

1/4

cup

vegetable oil

Kosher salt and pepper to taste
Instructions
Heat vegetable oil in large skillet over medium heat. Brown liver on both sides (about 5 minutes per side). When the liver is done, set aside in glass dish. Allow the liver to cool for about 15 minutes and then chill in the refrigerator for 1-2 hours, covered, or overnight.

While liver is cooling on counter, cook onions on medium heat in the same pan. Add more oil if necessary. Onions should cook until they are translucent and soft, but not brown, approximately 5-10 minutes. When finished, set aside in a separate dish and let cool in refrigerator until you are ready to process the liver.

Reserve oil from frying pan and store in airtight container. You do not need to refrigerate this.

Cook and peel two hard boiled eggs. Let cool, then mashed them. Remove liver from refrigerator.

Prepare meat grinder. Alternate putting liver and onions in grinder. Add some mashed eggs in between. Add salt and pepper to taste. If the liver is not smooth enough to your liking, either add some of the reserved oil or some fresh vegetable oil to achieve your desired consistency.

Put the chopped liver in a large bowl and chill overnight in the refrigerator. Serve the next day.
Recipe Notes
Note: Don't be fooled by the 2 hour prep time. I note this only because after you brown the liver (which will take all of 20 minutes) it needs to cool in the refrigerator for about 2 hours (or overnight). Otherwise, this recipe takes about 30 minutes of actual cooking time.
…The Backstory continues: To anyone other than a Jew, I can only imagine what this conversation might sound like. That said, When it came time for me to write this recipe, I had to get to the bottom of Nana's recipe and how my aunt came to be the keeper of it. But first I would have to get the recipe from my beautiful aunt, and this would be no easy task.
My wonderful aunt is my mother's sister and she has always been like a second mother to me. Which means, she speaks like my own mother (you have to fill in a lot of gaps like verbs and directions and important facts) and the transfer of this information (more like an interrogation) would happen during a phone call. Aunt Sandy in Florida (of course), yours truly in Boston. I could hear all of the hand gestures as my Aunt described how to do this and that, even though I wasn't in the room with her. In a word, it was perfect.
The story goes like this:
Nana was my aunt's mother-in-law. I remember her so fondly. She made the world's most delicious chocolate cake, Rice Krispie Treats and treated me like her own granddaughter. I still have a fringed purse that she gave to me and my cousin Hara (her granddaughter) when we lived in Canarsie in one of those side-by-side mother/daughter row houses when we were about five or six years old. Whenever Nana saw me, she would take me by the face in one hand and kiss me on the lips. I loved her.
Aunt Sandy told me that when she married my Uncle Mick in 1955, she didn't know how to cook. Why would she? My grandmother did everything for her, my mother and their other two sisters (and my my grandfather) for most of their lives. When she got married, she really had to learn how to cook for the first time and let me tell you, my aunt is a fabulous cook with a capital F. I call her often for recipes and quick fixes on just about anything that comes up in my kitchen.
But it turns out that it wasn't until 1981 when Aunt Sandy actually made Nana show her exactly how to make her famous chopped liver. Nana was getting older by then and my aunt realized that unless someone wrote down the exact measurements, Nana's beloved chopped liver recipe would be lost forever. As Nana made the liver one afternoon, my aunt raced around her kitchen grabbing ingredients and utensils and measuring this and that while Nana whipped around and kept going on to the next step. The result is the perfect recipe you have here–exactly the way Nana always made it.
P.S. I almost left out the best part of this story. My uncle Mick despises eggs so the story goes that whenever my aunt Sandy makes chopped liver, she has to "hide the eggs" to make sure he never sees an egg go into the grinder. She's been doing this for some sixty-plus years.
Please follow and like us: