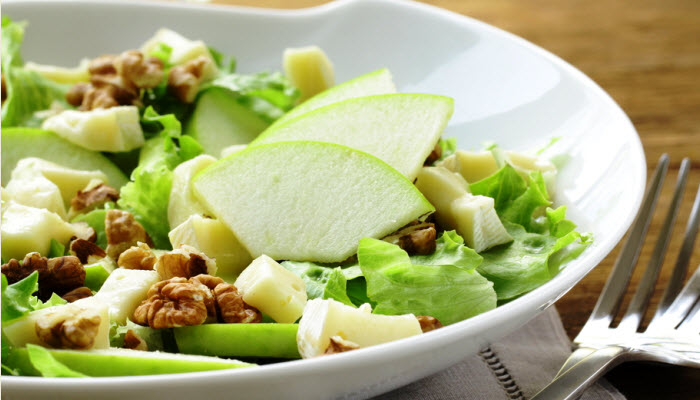 The Backstory: When you think of a Waldorf Salad you likely think: apples, celery, walnuts, grapes, bed of lettuce. And you should. Over the years, so many different spins have been made on this old classic, from adding cranberries, mayo, chicken and practically the kitchen sink. Poor Oscar Tschiry, the maitre d'hotel of the Waldorf Astoria Hotel, who created this signature dish: had he known his star salad would become such a butchered to-do, he might have kept his hands out of the salad bowl. More of the Backstory after the recipe…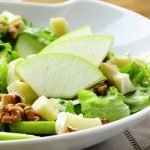 Waldorf Salad
An American Classic gets it light, sweet crunch from apples, celery, walnuts and grapes, tossed in a light dressing. Perfect for a girls' lunch, first course, or brunch or summer party.
Ingredients
1-2

Heads of Boston Lettuce

about 2 leaves per plate

1/2

cup

plain low-fat yogurt

2

tbsp.

fresh lemon juice

1

tsp.

Kosher salt

1/2

tsp.

freshly ground black pepper

2

apples, cored and cut into 1/2 inch pieces

I prefer Gala or Honeycrisp but any sweet apple variety will work

1

cup

celery, thinly sliced into 1/4 - 1/2 inch pieces

1

cup

red or green seedless grapes, cut in half

1

cup

candied or toasted walnuts, chopped
Instructions
In a small bowl, whisk yogurt and lemon juice together. Add salt and pepper; add more seasoning to taste.

In a large bowl, gently toss apples, celery, grapes, and walnuts together. Add dressing and toss to coat with the dressing.

Refrigerate mixture until ready to serve. Scoop a heaping serving of salad on top of each Boston lettuce leaf. Assume 2 lettuce leaves per serving.
Recipe Notes
If you are serving a crowd, buy additional heads of Boston Lettuce in case you need extra (I recommend 2 lettuce leaves per serving.)
…The Backstory continues: As much as I love all kinds of fruits and zests and chopped little bits and bobs in my salads and I do (I'll find an excuse to put mandarin oranges in just about anything), I'm a classicist by nature, and I'm with Oscar on this one: leave well enough alone. Everyone (and I mean everyone) claims to have the original Waldorf Salad recipe. Every web site swears they've got it and dozens of writers claim that theirs is the true original version. At this point, I've lost count of what's what, but this is the one I've concocted and used time and again, drawing upon what I believe (ha) was the original, with a truly minor tweak or two.
If someone has the true original, I'd certainly love to see it. Feel free to submit it to us and we'll gladly run it with your take on why it's the original version.
Please follow and like us: