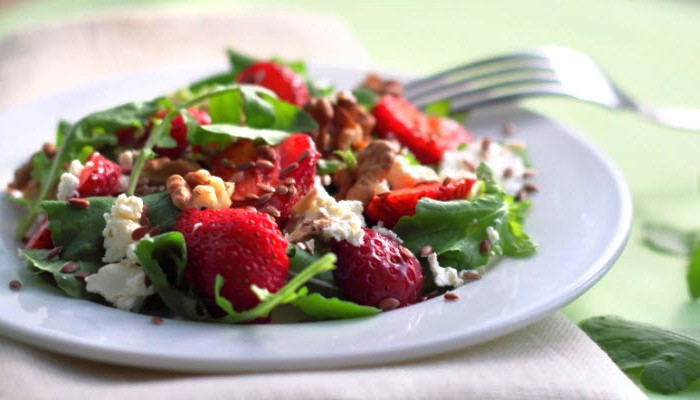 Spinach Salad with Strawberries and Goat Cheese
Spinach salad with strawberries and goat cheese is a refreshing and bright salad that has the best of both worlds: sweet and tart from the berries and tangy cheese. Add grilled chicken or salmon for a heartier lunch or main course.
The Backstory: When I was in my early teenage years, my mother used to take me once or twice a year into the city (what anyone living in the outer boroughs called Manhattan) for a special shopping trip and girls lunch. Lunch was always at the same place: the incomparable and glamorous Maxwell's Plum on the Upper East Side, at 64th and 1st. Back in the day, the place was something of a pick up scene and celebrity hangout and had quite the hopping bar, but by the time mom and I were annual diners, it's
more of a ladies who lunch place, and the old days of Warner LeRoy who opened the establishment in 1996 (and was the son of Hollywood producer Mervyn LeRoy) were long since gone. More of the Backstory after the recipe…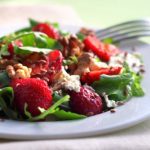 Spinach Salad with Strawberries and Goat Cheese
Sweet strawberries, candied walnuts and creamy goat cheese top crisp spinach leaves for a delicious salad that's perfect as a first course. Add grilled chicken, salmon, or shrimp for a heartier meal.
Ingredients
1

pound

fresh spinach leaves

or any other salad greens you like

1

pint

fresh strawberries, quartered

1

4 oz. container goat cheese crumbles, plain

3/4 - 1

cup

candied walnuts

or 1/2 cup slivered almonds

1

large lemon

2/3

cup

olive oil

2

tsp.

sugar

1

tsp.

dry mustard

1

tsp.

Kosher salt

1/4

tsp.

freshly ground black pepper
Instructions
Wash and thoroughly dry salad greens. Place in large serving bowl.

Grate lemon to get 2 teaspoons of zest and set aside. Squeeze juice from lemon to get 1/4 cup juice and whisk juice, zest, and olive oil in small bowl. Add sugar, dry mustard, salt and pepper. Taste and adjust salt and pepper if necessary.

Pour half of dressing over the lettuce leaves and add more as necessary. Add walnuts and toss. Gently fold in strawberries. If you are plating on individual plates, evenly divide salad onto salad plates and then sprinkle goat cheese crumbles on top of each individual salad. If you are serving the entire salad in one large bowl, sprinkle goat cheese crumbles over the top of the whole salad.
…The Backstory continues: Nonetheless, the restaurant was absolutely gorgeous, with its famous decor–Tiffany lamps everywhere you looked, stained glass, crystal gleaming from every corner (words can't do it justice) and ceramic animals scattered high and low. It was an Art Nouveau paradise and it was just fantastical. Dreamlike and fantasy in one.
The eclectic menu was part of the draw: hamburgers (which I always ordered–funny–I don't eat meat now and didn't after about age 18 or so–no real reason other than I just don't like it except for a brisket now and then), spinach salad (my mom's go-to), and a Banana's Foster that was to die for. This was our yearly lunch and I looked forward to seeing that burger arrive, almost the size of the plate it was served on. No lie.
My mother's salad–which I would most assuredly order now, was just as gorgeous. Huge piles of spinach, warm bacon dressing (okay, I wouldn't order it), gleaming hard-boiled eggs split in two, and candied walnuts. Her eyes lit up when it arrived, the dressing it its own silver pitcher. Of course. Lunch was an event and I remember our trips to Sak's Fifth Avenue before lunch (And one year, on my 17th birthday in 1981, my parents gift of a gorgeous, fitted red wool coat with a black velvet, Peter Pan collar that for years, we referred to as my Nancy Reagen coat.) I can still see the huge box and shopping bag that beauty lay in as we ate. It was a magical day.
I took that coat to college and felt like a princess walking around in it–and then felt completely overdressed (and like a high school fool) when I realized that college freshman tried to fit in, not stand out and that was a stand out coat. But I must state for posterity sake: it was one of my few high fashion moments.
But back to the spinach salad. My God, I digressed.
In the years since, I have developed a true love of spinach salad, but not so much with the traditional warm bacon dressing or the hard boiled eggs. This recipe is my version of the best of the best: spinach leaves, slivered almonds or candied walnuts (adore, adore), goat cheese, and a light, lemony-mustard dressing. If you want to turn this into a meal instead of a first course, add grilled chicken, salmon, and you've got yourself an amazing lunch or light dinner.
And as for Maxwell's Plum, I'm sorry to say that the restaurant was shuttered in 1988 and its furnishing auctioned off the following year. About the same time I gave my red coat to my younger cousin.
Please follow and like us: