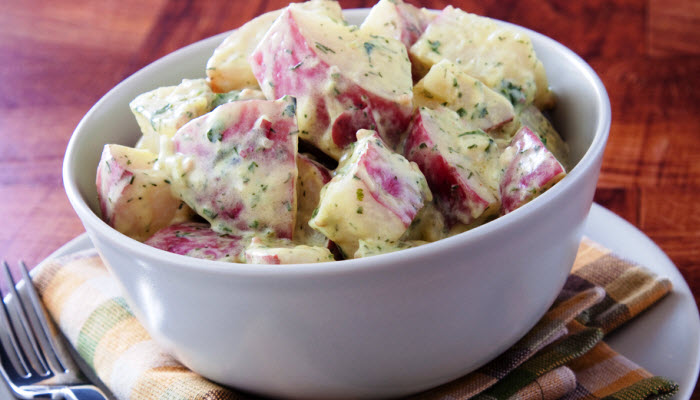 The Backstory: I confess: I'm fussy when it comes to potato salad (and coleslaw for that matter). It's a New York thing. I've grown up around delis and good Jewish soul food, and so I'm hard-pressed to give a thumb's up to a decent or even a fair potato salad. It's got to be good to get a few star rating from me. So sue me–I've got good Jewish food DNA (thanks, Dad!) and I'm standing by it. More of the Backstory after the recipe…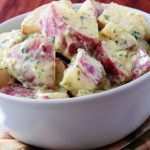 Classic Potato Salad
Creamy potato salad gets a kick of flavor from red wine vinegar, sweet pickle, Dijon mustard and scallions for the perfect balance of sweet and savory. Pack this for your next picnic or make a double batch for a barbecue.
Ingredients
2

lbs.

small red bliss potatoes

washed well

2

tbsp.

red wine vinegar

1/2

tsp.

Kosher salt

1/2

tsp.

freshly ground black pepper

2

tbsp.

Dijon mustard

1/2

cup

mayonnaise

1/2

cup

celery, diced

1/4

cup

chopped sweet pickles

do not use relish

3

scallions, thinly sliced

1/2

cup

chopped red pepper

2

tbsp.

fresh chopped parsley
Instructions
Bring potatoes to a boil in a large pot and cover, stirring occasionally until a sharp knife inserted into a potato can pass through easily, approximately 25 - 30 minutes. Drain potatoes and rinse under very cold water. Let potatoes cool.

Slice potatoes into large chunks and place in large serving bowl. Add vinegar, salt, and pepper and gently toss.

In a medium bowl, whisk together mayo, mustard and parsley. Add to potatoes and gently combine.

Combine chopped pickles, celery, red pepper and scallions in small bowl and add to potato mixture and toss gently.

Refrigerate until ready to serve. Taste and adjust salt and pepper if needed.
…The Backstory continues: That said, this recipe gets my approval. It's creamy enough to not be dry, but not doused in mayo (that gets an automatic thumbs down in my book). To top it off, like a lot of the great NY deli salads, it's got a kick of vinegar, Dijon mustard, and scallions to give it real flavor and distinguish it from so many of the supermarket varieties (read: bland) that are out there. These few extra ingredients really make the difference. An extra zip of sweet pickle sends it all the way home to make this a perfect recipe.
I can't take credit for it, though. It came to me, and now to you, from Carol Goldsmith, the mom of ex-fiance 1.0, who also gave me Carol's Carrot Cake. Both Carol and her gorgeous son, Aaron, are no longer with us, but both of them live on in so many ways.  My son, Morgan has been one of those preppy-from-birth kids and every now and then, my mother and I look at each other when we see Morgan cross the room and we look at each other and say "Little Aaron." (Although this is biologically impossible, for those with those twisted minds, you know what I'm trying to say.)
In any case, thank you Carol, once again, for sharing your delicious Sisterhood recipes from the Akron, Ohio community.
Please follow and like us: