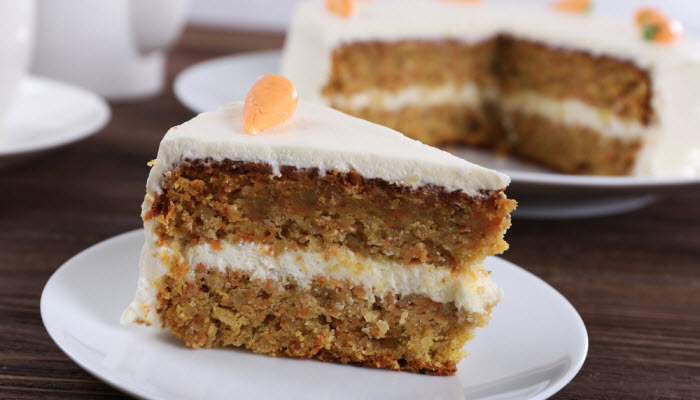 Classic Carrot Cake with Cream Cheese Frosting
Our classic carrot cake with cream cheese frosting is the only carrot cake recipe you'll ever need. It's decadent, moist and packed with raisins, nuts, and flavor in every single bite.
The Backstory: Let's be honest: classic carrot cake with cream cheese frosting is one of those rich, decadent, not-for-diet-days desserts. How can something based on carrots be so indulgent? Story of my life, LOL. This recipe is truly one of those foolproof, go-to desserts that I have used year after year when I want to make a showstopper cake to impress a crowd.  The recipe comes from (now stay with me) the mother of ex-fiance 1.0, who passed away (the fiance, sadly, many, many years after we called it off).  His mother was a big macher in the Sisterhood in the Akron, Ohio community and she had troves (and I mean troves) of recipes, gorgeous china that would make Tiffany & Co jealous, jewelry, and other amazing things that a girly-girl like me loved to look at. And she loved to show it all to me. More of the Backstory after the recipe…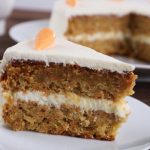 Classic Carrot Cake with Cream Cheese Frosting
Rich, decadent and truly an indulgent treat, this carrot cake is a showstopper dessert. Serve topped with small wedges of pineapple or crushed pecans for a beautiful decorative touch.
Ingredients
For the Cake
2

cups

all-purpose flour

2

cups

granulated sugar

2

tsp.

baking soda

2

tsp.

baking powder

2

tsp.

ground cinnamon

1

tsp.

ground cloves

1

tsp.

ground nutmeg

1

tsp.

ground allspice

3/4

tsp.

Kosher salt

1

cup

canola oil

4

large eggs

3

cups

grated carrots

1

cup

shredded coconut

sweetened or unsweetened

1/2

cup

diced fresh pineapple

canned is fine, well-drained

1/2

cup

golden rasins

1

cup

coarsely chopped pecans or walnuts
For the Frosting
1

8 oz. block of cream cheese, room temperature

do not soften in microwave

1

stick

unsalted butter, at room temperature

do not soften in microwave

4

cups

confectioner's sugar

2

tsp.

pure vanilla extract
Instructions
In an electric mixture fitted with paddle attachment, cream together butter and cream cheese until smooth.

Add sugar on low speed, one cup at a time, until smooth and creamy. Add vanilla.
…The Backstory continues: The thing is: she used and cared about none of these things. She didn't cook, didn't entertain (and she had the most amazing house–to die for! ack!), so all of those beautiful dishes (and girls, she had plates and chargers and sterling pieces that could have set a table for 40), just sat in a butler's pantry that was bigger than the house I now live in; and all that jewelry just sat in a box.
This killed me!
Carol knew how much I loved china and table setting pieces and so every time Aaron and I would visit, she would take me into the butler's pantry (seriously, this was a room all to its own) and let me go hog wild. There were enormous dinner plates that looked like something out of a White House State dinner in the most gorgeous sapphire blue and gold; Limoges china for 24 (who has Limoges place settings for 24?!), row upon row of magnificent silver tongs, tea bag dippers, serving spoons that were at least two feet long, individual sterling salt and pepper shakers for 24 (!), and on and on.
But back to the carrot cake before I pass out in a blur!
This recipe is actually from her Sisterhood, but she wasn't sure who originated it. She said it had passed around the Sisterhood as everyone's go-to recipe, and whenever it showed up at a luncheon or party, the ladies would just nod and know that it was the Sisterhood Carrot Cake. After she gave it to me in 1992, I called it Carol's Carrot Cake. Once you make it, you will call it your own and never look for another recipe.
Please follow and like us: