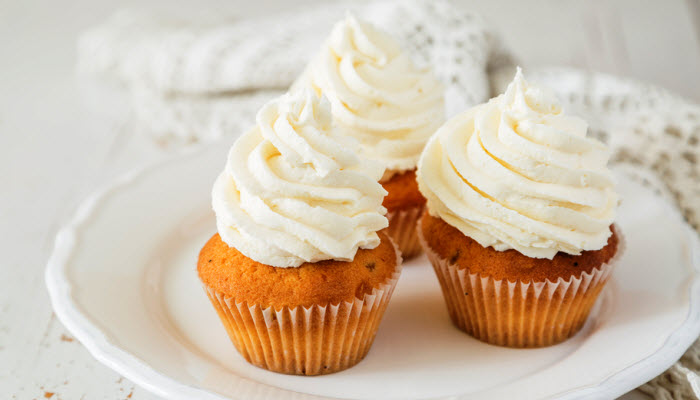 A foolproof, go-to recipe for cakes and cupcakes-it never fails!
The Backstory: Baking is by far, my favorite thing to do in the kitchen. It might have something to do with growing up in my dad's bagel bakery, surrounded by carbs, carbs, and more carbs. Something about the smell of bread rising, warm water hitting yeast, and that delicious smell of malt….don't get me started. More of the Backstory after the recipe…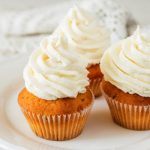 Cream Cheese Frosting
This classic frosting is perfect for slathering between layers of carrot cake, topping cupcakes or even as a dip for strawberries. Make sure to refrigerate any leftovers.
Ingredients
1

8 oz. block of cream cheese, at room temperature

do not soften in microwave

1

stick

unsalted butter, at room temperature

do not soften in microwave

4

cups

confectioner's sugar

2

tsp.

pure vanilla extract

lemon or lime zest (optional)
Instructions
In an electric mixture fitted with paddle attachment, cream together butter and cream cheese until smooth.

Add sugar on low speed, one cup at a time, until smooth and creamy. Add vanilla.

If you wish to flavor the frosting, you can add a teaspoon or two of fresh lemon or lime zest. (Taste after adding the first teaspoon of zest and then add more if desired) Otherwise, use frosting immediately. Store leftovers in fridge.
…The Backstory continues: While my father definitely cornered the market on bagels, I'm more of a cake and pastry baker. Pies, cakes, any kind of loaf, cupcakes, cookies, bars…I don't discriminate. Even the most simple baked good can be a work of art, and likewise, for a simple frosting. This cream cheese frosting is pure perfection. Just a few key ingredients at the exact temperature (room temperature is essential for making perfect frosting) for mixing, and you've got yourself a frosting that can be used for cookies, carrot cake, whoopie pies, cupcakes, and even dipping fresh berries.
This is the quintessential cream cheese frosting recipe. Double it if you are making a layer cake with more than two layers or if you want to make cupcakes for a crowd (more than 12).
Please follow and like us: