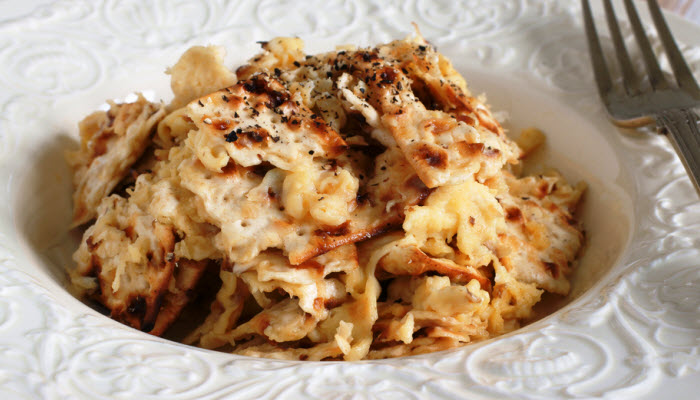 Matzoh Brei is everyone's favorite Passover breakfast dish and it's also perfect for lunch (and so easy to make).
The Backstory: I remember having Matzoh Brei as a young girl.  My mom made this mostly on Passover.  At a time when bread products are not to be used, mom would produce this for breakfast or lunch. Years ago, there were so many restrictions on what you could eat during Passover and we didn't have as many options as we do today. Now  every thing has a Kosher for Passover label.   More of the Backstory after the recipe…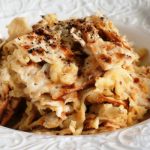 Matzo Brei
This is my special recipe for 2. It is sweet and crunchy. You can make this as simple as you want or add different ingredients. I have made it with fried onions or chopped scallions. But hubby had a sweet tooth. So sweet it was.
Ingredients
4

full sheets of matzo

broken up into small to medium size pieces

2

large eggs

1/3

cup

milk

you can use water instead of milk

1/4

tsp.

ground cinnamon

1/4

tsp.

ground nutmeg

3/4

tsp.

pure vanilla extract

1

tbsp.

butter

1

tbsp.

canola or vegetable oil
Instructions
In a deep bowl mix milk, eggs, cinnamon, nutmeg, and vanilla together .Break up matzos into small pieces and add to egg mixture. Mix and let stand a few minutes.

On medium heat, place a 10 inch skillet. When warm add the butter and oil. When melted add the matzo mixture.. Check after a few minutes (3) to see if bottom is brown. If so remove from heat.

This has to be turned over so topside can be cooked. Slide on to a large dinner plate. Cover with another dinner plate and turn upside down. Now slide brei back into pan. Cook for a few minutes until under side is brown. Serve

I use maple syrup, jam or powdered sugar to serve with this. A cup of coffee will finish off this sweet matzo meal. I usually heat the maple syrup (15 seconds) in the microwave.
…The Backstory continues: I remember many different dishes but most were made with eggs. We consumed so many egg dishes in those years.  Today the cholesterol police would be at your door banning so many products that were staples in a Jewish house. Think Chicken Fat otherwise known as Schmaltz. Times may have changed but Matzoh Brei will endure. There has always been a box of matzoh in my home. My hubby enjoyed cream cheese and jelly on matzoh all year round.  I like it with butter and a cup of coffee. This was one of my hubby's favorites whether I made it for breakfast or a late night snack.
Please follow and like us: