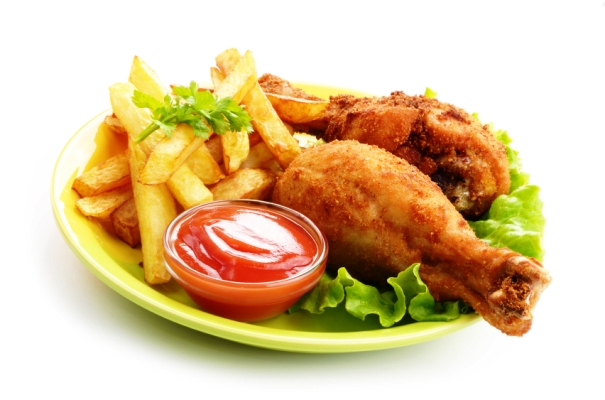 The Backstory: I first had fried chicken in 1965. Even though we were in Western Pa. this was Southern Fried Chicken at it's best. My hubby and I were traveling back to New York from Chicago. It was Easter Sunday and late at night.  We stopped at a motel in western Pennsylvania and we were starving.  We asked the desk clerk where the nearest restaurant was. He told us there was only one open at this time of night and we should hurry. We scooted out of the motel pretty fast as it was hurry up or dinner would be from a vending machine. More of the Backstory after the recipe…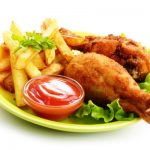 Fried Chicken
The aroma that goes through your home while frying up the chicken will thrill your senses! And you will have a hard time trying not to indulge in a piece until it will be served. This is the juiciest, crunchiest chicken you will ever eat. I like to serve this with creamy mashed potatoes and peas with pearl onions.
Total Time
3
hours
20
minutes
Ingredients
5+

lbs.

large Kosher chicken

1

quart

butter milk

To make it Kosher, use non-dairy creamer

1/2 - 3/4

cups

canola or vegetable oil

1 - 2

tbsp.

Kosher salt

1

tsp.

pepper

1

tsp.

garlic powder

1

tsp.

paprika

2-3

cups

flour
Instructions
In a deep bowl pour in buttermilk, add 1 tbsp salt and, pepper. Mix and add the chicken. Cover the bowl and refrigerate from 2- 8 hours or overnight.

Remove bowl from refrigerator Reserve the buttermilk. Drain chicken and place on a large plate.

In a large plastic bag put in flour, 1 tbsp. salt, garlic and paprika. Mix together.

Dredge a few pieces at a time and put on a clean plate until all the chicken is being coated.

Sometimes I double coat the chicken. This is not necessary. That is why I reserve the buttermilk. In case I want to dip chicken again and re coat. If you do this extra step you may need more flour and seasoning.

Heat oil over medium heat. When oil is hot, add some chicken. Brown until golden about 5 minutes per side. Do not let chicken burn. Use a foil lined baking sheet pan and place chicken in pan. You can use a wire rack so chicken does not rest on the foil.

Preheat oven to 375 degrees.

Bake about 45 minutes. Depending upon your oven, it may need additional cooking time.

Remove and let rest at least 5 minutes before serving.
Recipe Notes
I make this chicken with the skin left on but it can also be fried without the skin
…The Backstory continues: We arrived at a large restaurant that was pretty much dominated by a tremendous counter that looked as though it could seat 20 people.  However, there was only one other customer there.  We were shown into a large, empty dinning room.  The very pregnant waitress informed us there was no menu. Whatever was left was going to be our dinner.  We said okay.  To our surprise it turned out to be one of the best meals we had.  It started with homemade chicken noodle soup, followed by the most delicious fried chicken. The chicken was fried and crispy, and the seasonings where to die for. I don't recall the veggies, because I was so engrossed in the chicken.. The waitress came around and asked if we wanted seconds. I was too embarrassed to say yes.  Dessert followed.
My hubby and I were wondering what this dinner would cost. We were traveling on a limited cash flow after spending too much in the Windy City.  To our surprise the bill was under $5.00. My big tipper husband gave the waitress $10.00.  It was well worth the money and one of the best eating experiences we ever had. Every one in that town from the motel clerk to the restaurant staff were very friendly.  We spent some time chatting with all the people we met that night. Needless to say, the trip home took another turn.  Dear sweet hubby got a speeding ticket the next day, while we were still in Pennsylvania.  It was justified. He was not allowed to drive in that state for 60 days.
Oh well, we had no plans to do so.
Please follow and like us: