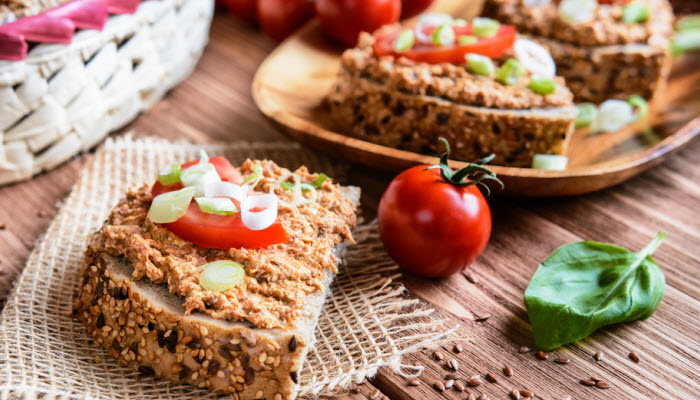 Vegetarian chopped liver tastes close enough to the real thing that even Bubbie would approve!
The Backstory: I found this recipe by accident. I was digging through my many folders and notebooks of recipes, news clippings of recipes from magazines, notes and other things I had jotted down on the back of envelopes, pads, etc..when I found an old index card with this recipe on it, written in formal script handwriting. I immediately assumed it came from my Aunt Sandy, since she gave me Nana's Chopped Liver, the beloved chopped liver recipe in our family, and the only one any of us (the entire family) ever uses. And, since this recipe calls for sardines, and my uncle Mick, Aunt Sandy's husband, is the only true lover of sardines that I know of, in our family, I doubly (and wrongly) assumed that this recipe must have some connection with my Aunt Sandy or Nana. Wrong again. More of the Backstory after the recipe…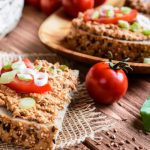 Vegetarian Chopped Liver
Creamy and crunchy at the same time, this sardine and walnut spread is a delicious alternative to traditional chopped liver and just as savory. Serve for sandwiches or with crackers for a delicious appetizer.
Ingredients
1

sliced onion

3

tbsp.

butter

2

hard boiled eggs

2

California sardines in tomato sauces

1/2

cup

walnuts

1

tsp.

Kosher salt

1/4

tsp.

black pepper

2

tbsp.

chopped scallions for garnish

sliced cherry tomatoes for garnish
Instructions
Saute the onion in butter for 15 minutes. Place in a chopping bowl and add the eggs, sardines, walnuts, salt and pepper. Chop very fine.

Chill for 1 hour. Serve on rye bread with sliced tomatoes and a sprinkling of scallions or serve as a dip/appetizer with crackers.
…The Backstory continues: That said, I have asked around in my family, and no one can identify the origins of this recipe. So what's a former reporter to do when she knows she must give credit where credit is due? Agh! I am sending out a virtual thank you and recipe attribution credit to whomever came up with this Vegetarian Chopped Liver recipe and hope you know how much we appreciate your culinary creation.
Please follow and like us: