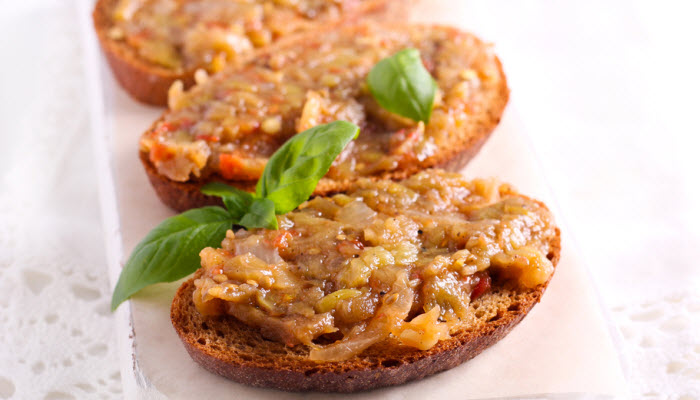 Eggplant Dip is a savory, tomato-y, slighty sweet spread that's perfect with crusty bread, crackers, or as a dip for veggies. A perfect make-ahead dish.
The Backstory: Eggplant dip is one of my favorite, go-to appetizers when I need to pull something together quickly. I love cooking with eggplant as it is so versatile. As hearty as eggplant appears, it can also be quite delicate as when it is caramelized and cooked slowly (one of my favorite ways to prepare it), and then again, I've used it to replace pasta in lasagna, and it holds up beautifully as a sturdy layer between sauce, other vegetables and a blend of cheeses. This is one of my favorite ingredients to have on hand…but did you know that eggplant is actually a fruit? Who knew? More of the Backstory after the recipe…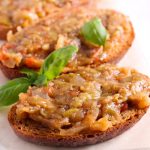 Eggplant Dip
This luscious spread is decadent, layered with flavor and always a crowd pleaser. Double the recipe to feed a crowd and make sure to have crackers or bread rounds to scoop up this delicious dip.
Ingredients
1

medium eggplant

2

tbsp.

minced onion

2

tbsp.

olive oil

4

tbsp.

freshly squeezed lemon juice

1 1/2

tsp.

Kosher salt

1/4

tsp.

freshly ground black pepper

1

tsp.

sugar

fresh parsley or basil for garnish (optional)

for garnish
Instructions
Preheat oven to 475 degrees. Pierce the skin of the eggplant with a fork several times and place on a non stick baking sheet. Bake eggplant until skin turns dark brown and wrinkles, 15-30 min (depends on your oven). You'll have to watch it and check. Remove from oven, cool, and peel the skins and discard them.

In a large mixing bowl, chop the eggplant with a fork until very smooth. Stir in the onion, oil, lemon juice, salt, pepper and sugar. Chill for 2 hours. Garnish with fresh parsley or basil before serving (optional). Serve with crackers or toasted baguette rounds.
…The Backstory continues: Eggplant features prominently in many cuisines around the world from Asian to Italian to French and of course, Middle Eastern. My mother's ratatouille uses plenty of eggplant, and I can never get enough of it when she prepares a big batch. It remains one of my all-time favorite mom requests.
But back to my eggplant dip!
This recipe will serve about 6 people so I recommend that you double it if cooking for a crowd. I usually plate this in a pretty silver bowl, surrounded by crackers, big bunches of red seedless grapes (something about having something sweet after a bite of savory eggplant), crackers or toasted baguette rounds, and some sliced figs. Heaven on a plate!
Please follow and like us: