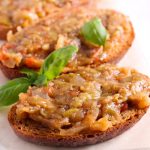 Eggplant Dip
This luscious spread is decadent, layered with flavor and always a crowd pleaser. Double the recipe to feed a crowd and make sure to have crackers or bread rounds to scoop up this delicious dip.
1

medium eggplant

2

tbsp.

minced onion

2

tbsp.

olive oil

4

tbsp.

freshly squeezed lemon juice

1 1/2

tsp.

Kosher salt

1/4

tsp.

freshly ground black pepper

1

tsp.

sugar

fresh parsley or basil for garnish (optional)

for garnish
Preheat oven to 475 degrees. Pierce the skin of the eggplant with a fork several times and place on a non stick baking sheet. Bake eggplant until skin turns dark brown and wrinkles, 15-30 min (depends on your oven). You'll have to watch it and check. Remove from oven, cool, and peel the skins and discard them.

In a large mixing bowl, chop the eggplant with a fork until very smooth. Stir in the onion, oil, lemon juice, salt, pepper and sugar. Chill for 2 hours. Garnish with fresh parsley or basil before serving (optional). Serve with crackers or toasted baguette rounds.