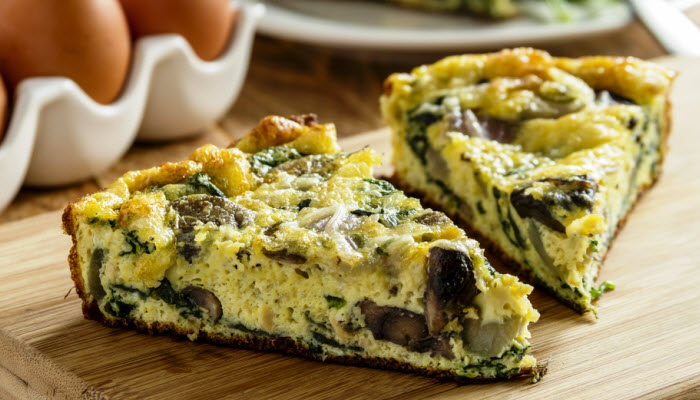 Swiss, Spinach and Mushroom Quiche
Delicious Swiss and sauteed veggies flavor this lovely lunch, brunch or dinner quiche.
The Backstory: I've had a love affair with quiche for as long as I can remember. I adore quiche. Adore it. And what's not to love? Delicious pastry crust (you had me at "hello"), gooey, gorgeous cheese (take your pick: Swiss, Gruyere, Cheddar–it's all good), and any combination of veggies your heart desires. More of the Backstory after the recipe…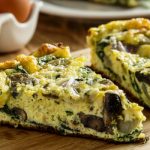 Swiss, Spinach and Mushroom Quiche
Swiss cheese, fresh spinach and mushrooms serve as the base for this scrumptious dish. Store bought pie crust or scratch pastry can be used--either way, this is a one-dish meal that makes a perfect lunch, dinner (pair it with a salad) any time of year.
Ingredients
For the Crust
1

cup

all-purpose flour

6

tbsp.

shortening

1/2

tsp.

Kosher salt

3-4

tbsp.

cold water

1

tbsp.

softened butter
4

large

eggs

2

cups

heavy cream

1

cup

shredded Swiss cheese

1/2

pound

mushrooms

thinly sliced

1 1/2

cups

fresh baby spinach

roughly chopped

2

tbsp.

green onions

finely chopped

2

tbsp.

butter

1/4

tsp.

Kosher salt

1/8

tsp.

freshly ground black pepper

1/8

tsp.

ground nutmeg
Instructions
For the Crust
In a medium bowl, lightly stir together the flour and salt with a fork.
With a pastry blender or two knives using a scissor motion, cut in shortening until the mixture resembles coarse crumbs.

Sprinkle in cold water a tablespoon at a time, mixing lightly with a fork until pastry just comes together.

With hands, form pastry into a ball. On a lightly floured surface with lightly floured rolling pin, roll into a circle about 1/4 inch to 1/8 inch thick. Make sure dough is about 2 inches larger than your pie plate.

Gently place dough into pie plate, easing it into the bottom and up the sides. Trim excess crust from around edges. Spread crust evenly with softened butter. Chill in refrigerator while you make the quiche filling.
For the filling
Preheat oven to 425 degrees.

In a medium skillet over medium-high heat, melt butter and add mushrooms, spinach, salt and pepper. Saute for about five minutes until vegetables are soft. Spinach will wilt down quite a bit, Set aside to cool slightly.

Beat eggs, cream, salt, and nutmeg. Add Swiss cheese and gently combine.

Add mushroom and spinach mixture slowly into cream mixture and stir until just combined. Remove crust from refrigerator and pour mixture into crust.

Bake for 15 minutes and then reduce heat to 325 degrees and bake for an additional 35 minutes. Let sit for 10 minutes before serving.
Recipe Notes
Note: Before putting quiche into the oven, I like to place my pie pan on a rimmed baking sheet so that there's a little added protection in case some of the egg mixture bubbles over. The baking sheet also makes it much easier to remove the pan from the oven when the quiche is ready.
…The Backstory continues: What I love most about quiche is that you really can't mess it up. If you're not a whiz in the pastry department, no problem–there are so many good quality pie crusts available on the market, that no one needs to feel ashamed of using them in a pinch or as a rule. Feel free.
Quiche is a perfect vehicle for using leftover chicken, fresh veggies, herbs, and so many other good things, that I cannot understand why it's not more of a staple in American homes. It's truly a one-dish wonder. Add a crisp green salad and you've got yourself a delicious meal in very little time.
This recipe uses Swiss cheese, fresh spinach and mushrooms but by all means, substitute your favorite cheese and vegetables. That's the other fun part about quiche–you can get your creativity on and just have fun in the kitchen. And once this glorious pie comes out of the oven (don't worry–your nose will lead to the oven door long before it's ready), you'll be drooling with mouth-watering anticipation and asking yourself the same question: why don't we have this more?
Bon appetit!
Please follow and like us: