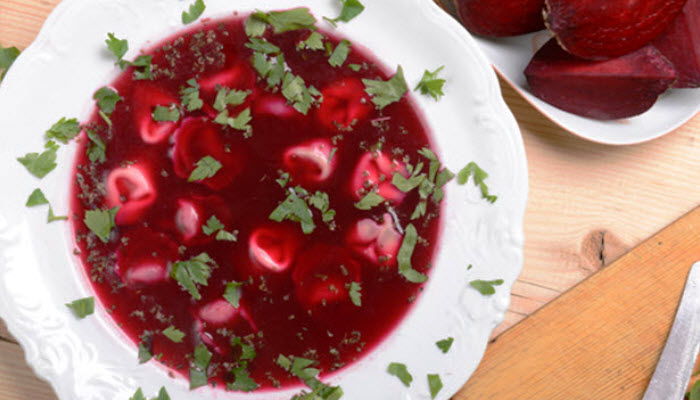 Old Fashioned Hearty Borscht
The Backstory: When I think of borscht, I immediately picture my grandfather slurping up spoonfuls of this deep magenta soup, oblivious to the sounds of his own enjoyment, and smacking his lips with a satisfied "aahh" every few spoonfuls. More of the Backstory after the recipe…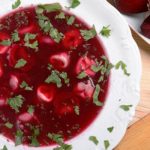 Borscht
This beef-based soup is rich with the flavors of beets and fresh vegetables, and gets a kick of tang from cider vinegar. The beef provides a rich depth of flavor that makes this soup perfect for a cold autumn or winter meal. Serve with crusty bread for the perfect hearty lunch.
Total Time
2
hours
30
minutes
Ingredients
3

cups

hot water

1

pound

Kosher beef brisket

cut into 1-inch cubes

3

medium beets

peeled

2

medium carrots

peeled and sliced

1

medium onion

peeled and sliced

1

stalk of celery

cut into chunks

1/2

head of cabbage

green or purple, shredded

1/2

can

tomato paste

6 ounce can

1

tbsp.

cider vinegar

1 1/2

tsp.

sugar

1

bay leaf

1/2

cup

sour cream

optional or as a garnish

Kosher salt
Instructions
Using a 5 quart stock pot or Dutch oven, add water, beef, carrots, onion, celery, 2 sliced beets, bay leaf, and 1 1/2 teaspoons Kosher salt and cook over medium-low heat, covered, for two hours, stirring occasionally.

After two hours, shred the remaining beet with a grater or food processor and add to the pot along with tomato paste, sugar and one more teaspoon of salt. Stir well, combing all ingredients.

Cover again and simmer for an additional 20 minutes over medium low heat.

Remove pot from heat and discard bay leaf. Let cool and then chill in refrigerator for at least a few hours or until the fat from the beef hardens to form a top layer.

About 30 minutes before serving, remove fat layer from soup and return pan to stove. Brings soup to a boil and add shredded cabbage. Cook for 15 minutes and then add vinegar.

Serve immediately with a dollop of sour cream on top as a garnish.
…The Backstory continues: Granted, as a young kid, watching (and listening) to this cacophony of sights and sounds (over a bowl of soup?) wasn't exactly the most pleasant experience, but as an adult, I can appreciate my grandfather's pure joy at this beef-based (yes, beef-based) epicurean one-bowl wonder.
Borscht is often thought of as a peasant's dish of Ukrainian origins, although it was popular in many Eastern and Central European countries. Beetroot, (beets) which gives it its famous magenta color is its star ingredient and there are so many varieties of this dish where other main ingredients such as tomatoes are the main focus. Borscht can be served hot, cold, or at room temperature, and this versatility has given this dish one more reason for its longevity. Some purists prefer not to mess with simplicity and feature beets and a touch of cider vinegar, with maybe a dollop of sour cream as garnish, while others go to town with carrots, onions, celery, and many other root vegetables. A simple Google search will show you that there is literally a world devoted to borscht and its besotted followers.
The recipe below is for a heartier version of the traditional beef-based borscht and while it requires a little patience and time to cook, it's well worth the wait.
Please follow and like us: