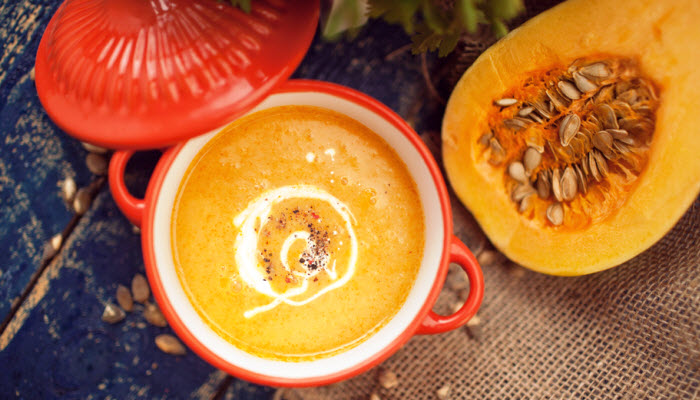 This velvety sweet and savory soup is the perfect first course for Thanksgiving or any festive fall meal. Add some warm crusty bread and enjoy.
The Backstory: Let me just come right out and say it: I am not a soup lover. More of the Backstory after the recipe…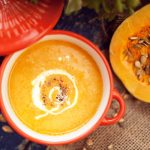 Butternut Squash Soup
This rich, decadent soup is the perfect butternut squash soup. It gets it complex flavors from Granny Smith apples, fresh apple cider, butternut squash and the perfect blend of fall spices. The soup is finished with just a touch of whipping cream for an extra indulgent layer of deliciousness.
Total Time
1
hour
15
minutes
Ingredients
5

tbsp.

butter

2 1/2

pounds

butternut squash

peeled, seeded, cut into small chunks (about 6 cups)

2

cups

chopped leeks

white and pale green parts only

1/2

cup

chopped peeled carrot

1/2

cup

chopped celery

2

Granny Smith apples

peeled, cored, and chopped

1 1/2

tsps.

dried thyme

1/2

tsp.

crumbled dried sage leaves

5

cups

Kosher chicken stock or canned low salt chicken broth

1

cup

apple cider

(do not use apple juice)

1/2

cup

whipping cream
Instructions
Melt butter in heavy saucepan over medium-high heat. Add squash, leeks, carrot and celery. Saute until slightly softened, about 15 minutes.

Mix in apples, thyme and sage. Add stock and 1 cup cider and bring to a boil. Reduce heat to medium-low. Cover and simmer until apples are tender, stirring occasionally, about 30 minutes. Cool slightly.

Working in batches, puree soup in blender. Return soup to pan. Mix in whipping cream. Serve immediately.
Recipe Notes
Soup can be made ahead and stored in refrigerator until ready to use. If you are going to be using soup later in the day or the next day, I like to make the soup just up until adding in the whipping cream. Instead, follow the entire recipe except for adding in the whipping cream. Instead, allow the soup to cool and store overnight. Before serving, return soup to simmer on stove and then add in 1/2 cup whipping cream and serve immediately.
…The Backstory continues: Now, as a nice Jewish girl (from Brooklyn, no less) this is probably tantamount to treason. After all, how does such a girl not extol the virtues of chicken soup, luchen soup, her own mother's (delicious) matzoh ball soup as if it were the holy grail?
Well, truth be told, my  mom's matzoh ball soup is the holy grail and you can find it right here for pretty much anything that does ail you, and I do promise that if you make it (and you should) you'll thank me for it a million times over.
That said, I'm still not much of a soup girl.
However: this soup I could eat almost every day of my life. In the fall or winter. It's the most delicious, aromatic, life-affirming (okay, okay), autumn-like, fall-flavored, rich, sweet and savory blend of squash, cider, sage, and all things fall. Oh dear God, is it good.
I cannot take any credit for it. I must credit the very fine folks at Epicurious.com for this magnificent recipe. I first discovered it online in 1998 and I've been making it every year since then. I have passed this recipe on to so many people, that at this point, whenever I make it for Thanksgiving or another fall/holiday get together, I simply make an extra batch or two, have it ready to give guests when they leave (no one ever says no to a container to take with them) as well as a copy of the recipe.
If you love butternut squash soup, get ready to fall in love with your new favorite recipe. Oh, and yes, you're welcome.
Enjoy.
Please follow and like us: