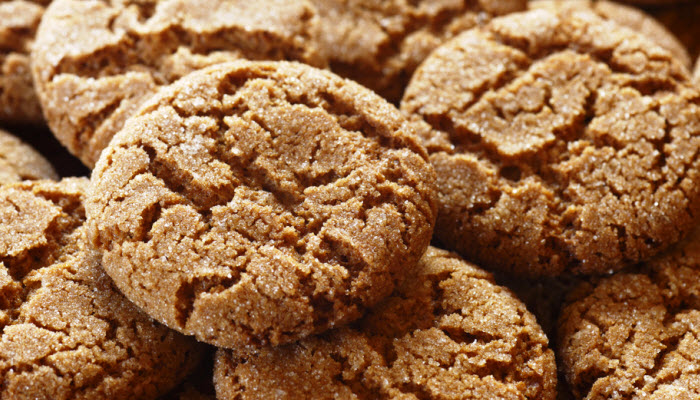 Gingersnap cookies are pure chewiness on the inside and golden crispiness on the outside with spicy deliciousness all around!
The Backstory: I don't know about you, but to me, gingersnaps (done right) are just about one of the most delicious, cozy, comfort foods on the face of the earth. Just the smell of them remind me of being a kid and eating them straight out of the box…(probably the root cause of so many other issues in my life, but hey, that's a backstory for another day, and let's just call that one, the backside, shall we?) But I digress. More of the Backstory after the recipe…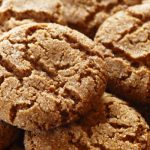 Gingersnap Cookies
These spicy, chewy-crisp cookies are the ultimate in comfort-cookie goodness. The cookies get their deep flavor from molasses and their crispness from being rolled in sugar prior to baking.
Ingredients
2

cups

flour

2

tsp.

baking soda

1/2

tsp.

Kosher salt

1

tbsp.

ground ginger

1

tsp.

ground cinnamon

1/4

tsp.

ground nutmeg

1

pinch

ground cloves

3/4

cup

shortening

1

cup

sugar

1/4

cup

molasses

1

large

egg

sugar for rolling cookies
Instructions
Preheat oven to 350 degrees.

Mix flour, baking soda, salt, ginger, cinnamon, nutmeg and cloves together in a medium bowl and set aside.

Beat shortening and sugar together in a large bowl with electric mixer on medium speed until light and fluffy. Beat in molasses and egg.

Gradually add in flour mixture until well incorporated.

Shape dough into 1 inch balls. Roll each ball in sugar until well coated (be generous with the sugar!). Place each cookie about 2 inches apart on ungreased cookie sheets.

Bake cookies for about 12 minutes or until golden. Note: As soon as these come out of the oven and before I take them off the cookie sheet, I give them an extra sprinkling of sugar on top for texture and well, just because.
…The Backstory continues: Gingersnaps get their gorgeous color and depth of flavor from molasses, one of God's true gifts to those of us who love to bake. Okay, so maybe God didn't create molasses, but I'd like to think that given the option, He would have, that's how divine it is. Oh, I'm full of (something) innuendos today.
These cookies can be stored up to a week in a plastic storage bag or a cookie jar and they freeze perfectly. Just pop them in the freezer and take them out whenever you want to serve them. I often make extra cookie dough and store it in freezer bags, toss it in the fridge the night before I want to use it and it bakes off beautifully.
What I love most about these is their distinct spiciness and their unique combination of slight chewiness on the inside and crispness on the outside. This combined with their crackly top and glistening sugar crust, truly make them special. Be sure to roll them very liberally in the sugar before you bake them so they come out sparkling and extra crisp. Or do what I do: as soon as they come out of the oven, hit them with an extra sprinkling of sugar on top. Yes, I really do this.
Please follow and like us: