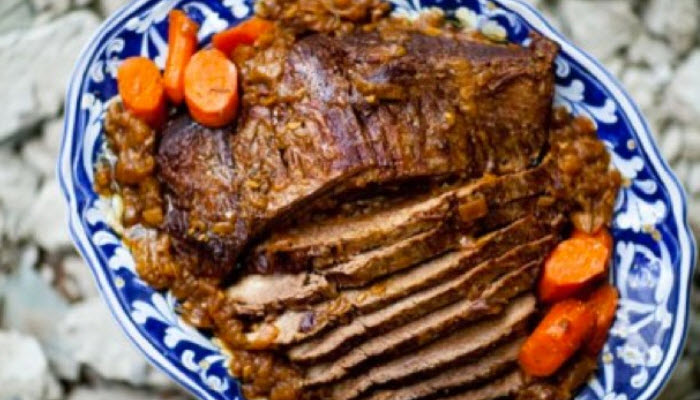 This classic brisket is my-go holiday brisket for just about every holiday gathering. The meat is fork tender (it literally shreds) and the sauce is tangy, savory and slightly sweet.
The Backstory: A few fiances ago (that sounds much worse than it actually is), back in 1996, I became friendly with the mother of my then-fiance's best friend. Still with me? Sandy, (the mom) invited me and my then intended to her home for one of the Jewish holidays and of course, around came the brisket. Well, I'm not a big meat eater, in fact, I'm not really a meat eater at all. But, not wanting to be rude, I took a tiny slice of brisket and figured I'd move it around on my plate or cover it up with some kugel and no one would be the wiser.  Until I noticed that every single person at the table was oohing and aahing about the brisket and that the platter was going back and forth so many times, and making as many trips to the kitchen to be reloaded. So I dug in.
OMG More of the Backstory after the recipe…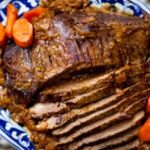 Holiday Brisket
This rich, slow-cooking brisket is a show-stopping main course that is perfect for any holiday or Shabbat celebration and just as delicious the next day on a sandwich (that is, if there are any leftovers!)
Total Time
4
hours
20
minutes
Ingredients
1

4-5 pound Kosher first cut brisket

1

packet

Lipton Onion Soup Mix

Heinz ketchup

1

large

onion

cut into thin rings

Kosher salt, pepper, and garlic powder
Instructions
Preheat oven to 325 degrees.

Season the brisket with Kosher salt, freshly ground black pepper and garlic powder. Set aside.

Fill a large, deep roasting pan halfway with water. Put brisket in pan. Cover top of brisket with a thick layer of ketchup.

Place sliced onions on top of ketchup and allow extra slices to fall into pan of water.

In a measuring cup mix together onion soup mix and about a half cup of water or enough water to make the soup mix into a thick liquid. Pour over the brisket.

Cover pan tightly with foil and cook for 4 1/2 hours, checking every hour to baste and add more water to bottom of pan if necessary to make more gravy for basting.

After 4 1/2 hours, remove from oven and let brisket sit for 20 minutes before slicing. The meat should pull apart easily. Serve with the gravy on the side.
…The Backstory continues: This recipe is Sandy's exact recipe that I ate for very first time in 1997. The irony is that after she so generously shared her recipe with me, I started making it for all of the Jewish holidays I hosted at my house and I became known for making "Sandy Mandel's Brisket." My mother, her three sisters (all of whom live in different states" started making Sandy's version of this holiday classic (and doing away with their own recipes that they had been using for decades). Sandy's brisket is now the brisket that many of my aunts, cousins and I'm sure, a few of their friends and neighbors now serve to their own families.
Now that's what I call that (culinary) Jewish geography.
Please follow and like us: