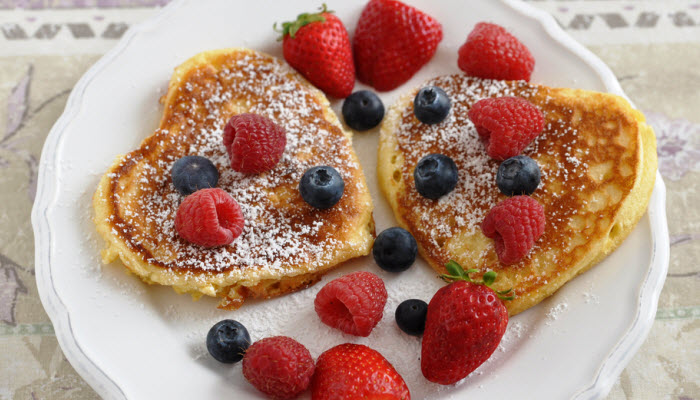 Bring a little happy (or romance) to your table with these gorgeous, fluffy, vanilla-infused heart-shaped pancakes. Delish!
The Backstory: If you've got a picky eater (or two) at home, heart-shaped pancakes are the perfect go-to breakfast recipe for you when you feel like making a nice breakfast for your family, but can't stand the thought of your kids reaching for another bowl of sugary cold cereal. These little pancakes are delicious, fun for kids to look at (and eat), and can be doctored up in so many ways that you can actually sneak in some good-for-you things like blueberries, strawberries, and bananas without raising too many eyebrows. What's not to love about that? More of the Backstory after the recipe…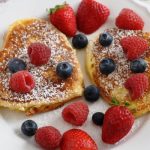 Heart-Shaped Pancakes
Heart-shaped pancake molds make breakfast for the kids extra special and this recipes is simple, quick, and allows you to sneak in some vitamin and fiber-rich fruit into their most important meal.
Ingredients
1 1/4

cups

all-purpose flour

2

tbsp.

sugar

2

tsp.

double-acting baking powder

3/4

tsp.

Kosher salt

1 1/3

cup

milk

(use 1 cup milk for thicker pancakes)

1/2

tsp.

pure vanilla extract

3

tbsp.

vegetable or canola oil

plus more for skillets

heart-shaped pancake molds

non-stick cooking spray
Instructions
In a large bowl, combine flour, sugar, baking powder and salt. Set aside.

In small bowl, beat egg and stir in milk, vanilla, and 3 tablespoons oil. Add to flour mixture and stir until just moistened.

Heat skillet or griddle to medium-high and brush lightly with salad oil. Spray each heart-shape pancake mold with non-stick cooking spray and place mold directly onto skillet.

Pour about 1/4 cup measuring cup's worth of batter into the mold and let batter set. Repeat with additional molds.

Cook each pancake until bubbles form and gently release mold from pancake. Flip pancake and repeat with additional molds until all batter is used.

Place on a baking sheet in oven to keep warm (you can keep oven at 250 degrees while you make the rest of the pancakes) or just put pancakes on a plate covered with a clean kitchen towel.

Sprinkle with confectioner's sugar. Serve with butter, warm maple syrup and fresh berries.
Recipe Notes
Variations: To make blueberry, raspberry, or strawberry pancakes, simply pour 1/4 cup of batter into the skillet as described above. Let the batter cook for about a minute and then scatter fresh berries directly onto the pancake. Flip pancake once you see bubbles form along edges and continue as usual.
Note:
…The Backstory continues: From a budget perspective, they're easy on your wallet, and from a technique point of view, they're as simple as can be to whip up. Pancakes are also the perfect anytime food to feed a crowd (they work perfectly well for a lazy weekend dinner when you don't have much else on hand and need something quick). And they're also quite easy to fancy up. I've sauteed bananas in a little butter and brown sugar and poured them over a stack of pancakes only to have my late father (the bagel man) nearly go weak in the knees with joy.
This recipe is your basic, can't-go-wrong recipe. I make this at least once a month for my family (I double the recipe) and usually use two separate skillets when I make them: I have two boys who love blueberry pancakes so I toss some blueberries directly on to the pancakes as they're cooking in pan number one…and I have a second skillet with plain ones. I keep them warm in the oven as I finish up my batter and then serve them on a platter with confectioner's sugar and warm syrup…extra berries on the side.
If you have any leftover pancakes, simply store them in the fridge in a plastic storage bag and reheat them in the microwave. Wrap pancakes in a paper towel and cook for about 30 seconds until hot and steamy and you'll never know you're having a day-old pancake.
Please follow and like us: