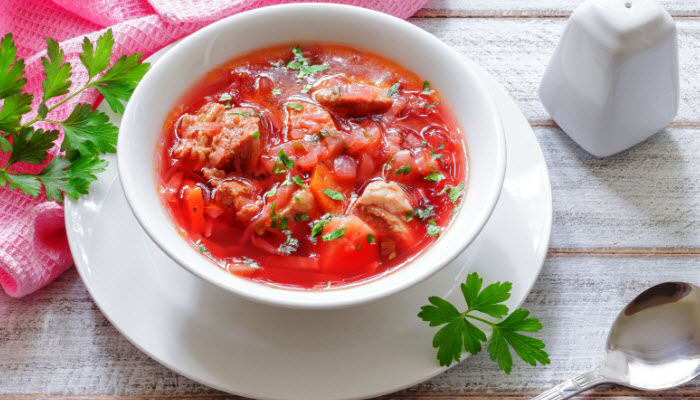 Sweet and Sour Cabbage Soup
Our updated take on sweet and sour cabbage soup will win you over! Sweet, tart, and absolutely delicious, it cooks up in 30 minutes and freezes beautifully.
The Backstory: For as long as I can remember, sweet and sour cabbage soup was one of those things I deliberately ignored on any deli menu  I ever encountered, as if it were something to avoid, like the plague or a swarm of locust. I'm not sure why. Just the sound of it–cabbage soup–conjured up (an admittedly strange) image of a gathering of travel-weary Jewish-Poles hunched over a long, communal table, gulping down steaming bowls of boiling (why, why, why boiling?) broth before continuing on their march to flee the onslaught of the Cossacks. This has got to be one of the most ridiculously botched versions of history on record (geo-political, religious, and culinary) and yet, my twisted mind would take me there at the mention of cabbage soup. More of the Backstory after the recipe…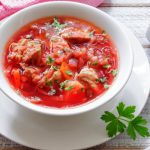 Sweet & Sour Cabbage Soup
This sweet and savory soup gets its tang from just a touch of cider vinegar and its sweetness from brown sugar. It's a perfect light meal when paired with a hearty bread and a refreshing salad and makes a wonderful first course.
Ingredients
2

tomatoes

medium, coarsely chopped

1/2

green cabbage

medium, shredded (6-7 cups)

1

onion

medium, sliced

1

can

stewed tomatoes

14.5 ounces

2

tsp.

Kosher salt

5

cups

beef broth

1/4

cup

cider vinegar

plus 1 tbsp.

3

tbsp.

brown sugar

1

tsp.

lemon juice

1/4

cup

raisins

pinch nutmeg

very tiny pinch

Kosher salt & pepper to taste

parsley for garnish
Instructions
In a 6 quart pot, combine tomatoes, onion, cabbage, canned tomatoes and salt. Cover and cook over medium heat (stirring often) for about 8 minutes or until cabbage is very tender.

Add beef broth, vinegar, lemon juice, sugar and raisins, and stir well.

Add tiny pinch of nutmeg and adjust sweetness or tartness to taste by adding a little more lemon juice or brown sugar if needed (add in small increments of about 1/2 tsp. at a time).

Cover and simmer over medium heat for 15 minutes.

Season with salt and pepper to taste; garnish with parsley before serving.
…The Backstory continues: Or maybe that was the cabbage soup diet and too many weeks of starvation (as a result of said soup?) Nonetheless, up until this very recipe, let's just say, I was not a fan of ye olde cabbage soup. And then along came this recipe and I'm embarrassed to tell you–but I don't even know the source of it. If anyone out there is the author of this gem, please write to me and let me know. Clearly, I owe you a world of gratitude (you may have single handedly spared me from a one-way ticket to the place you sign in to but don't get to sign out of on your own, if you get my drift) and you've certainly opened up my eyes (and my taste buds) to the experience of this delicious, savory, sweet, and perfectly ying-yang balanced soup. It's just perfect.
Please follow and like us: