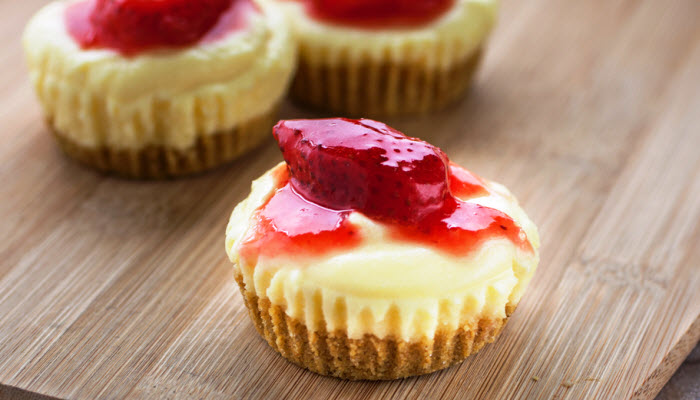 Our mini cheesecake cupcakes are pure heaven on a plate. These little beauties are four-bites of creamy, rich decadence that won't make you feel (too) guilty and will wow your guest with their gorgeous presentation.
The Backstory: As I've told you in so many of the stories that accompany the recipes on The Jewish Kitchen, my father was a world class (bagel) baker, and one of the greatest joys in my life was baking something so scrumptious, it would actually (almost) bring him to his knees. Well, one weekend, I was running short on time, and my parents were due to arrive for a weekend visit in Boston from Florida. I had to have something quick to impress my dad for dessert that night. Had to. No stops at the local bakery would do. More of the Backstory after the recipe…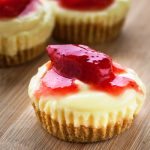 Mini Cheesecake Cupcakes
Rich, creamy cheesecake cupcakes are topped with fresh whipped cream and berries and are the perfect four-bite ending to delicious meal. These are also perfect for holiday buffets, dressing up a dessert and champagne party, or even a bridal or baby shower. Make more than one batch--they'll be the first things to go!
Ingredients
For the crust
1

cup

graham cracker crumbs

about 10 crackers

1

tbsp.

sugar

4-5

tbsp.

unsalted butter, melted
For the filling
2

packages

cream cheese

8 ounces, at room temperature

1

cup

sugar

1

tsp.

pure vanilla extract

1/2

tsp.

lemon zest

2

large

eggs
For the whipped cream (Optional)
1

cup

whipping cream

1

tbsp.

sugar

fresh berries or pie topping (optional)
Instructions
Preheat the oven to 350 degrees. Place a paper cupcake liner in each of 12 muffin cups.

Combine the butter, sugar, and graham cracker crumbs together in a bowl with a fork. Divide evenly into each muffin cup and pat down gently with the fork. Bake for 8 minutes. Remove from oven and let cool.

While crust cools, beat cream cheese using an electric mixer on medium speed until fluffy. Add sugar, vanilla, and lemon zest. Add eggs, one at a time, beat well after each egg is added.

Spoon cream cheese mixture over crust. Bake for 20 minutes.

Allow cupcakes to cool completely. I like to refrigerate mine for at least 4 hours before topping with whipped cream and berries.
Recipe Notes
For the whipped cream: Pour one cup of whipping cream into an electric mixer, Using the whisk/beater attachment, beat on high, gradually adding the sugar. Beat until medium-stiff peaks form. Do not overbeat.
Crust Variations:  If you you don't want to make a graham cracker crust, you can simply put a whole Oreo (Golden or Regular) or a Nilla Wafer at the bottom of the muffin liner (flat side down) and it will form a crust by itself as the cheesecakes bake in the oven.
Do not pre-bake the cookie by itself as you would the graham cracker crust; simply put the cookie in the liner and proceed to making the batter and baking the cheesecakes.  This is one of those great tricks for when you're short on time and it works like a charm.
…The Backstory continues: I dug out my recipes (translation: piles of torn out magazine pages and printed pages from websites I regularly use when planning menus, parties, etc.). I couldn't find anything that jumped out at me that screamed "pick me, pick me!" and so I thought to myself, "Cheesecake!" and then quickly sobered up and thought, "In an hour?" Not so fast.
I found a dozens (OMG, who knew?) mini-cheesecake recipes online and tweaked one until it came out to this delicious version below. My dad said even this four bite wonder reminded him of the rich cheesecakes he used to have in those fabulous Brooklyn diners (the ones that have the mile-high cakes on display in those massive, old-fashioned spinning cake displays). Such a compliment!
Anyway, there are so many ways to be creative with these. You can top them with fresh whipped cream and berries, chocolate mousse, a spoonful of pie filing, shaved chocolate, or what I loved to do for my dad, was pick up a few good quality stemmed chocolate-covered cherries from our wonderful, local candy shop (Sweet Mimi's in Andover) and nestle it right in the middle of the whipped cream. My father loved these chocolates and when he would set eyes on the tray of cheesecake cupcakes and see the little stem poking out, well, I don't have to tell you.
A quick dusting with powdered sugar, a little arranging on a beautiful platter or cake stand and pow, maximum wow factor. Who needs a spinning display?
Please follow and like us: