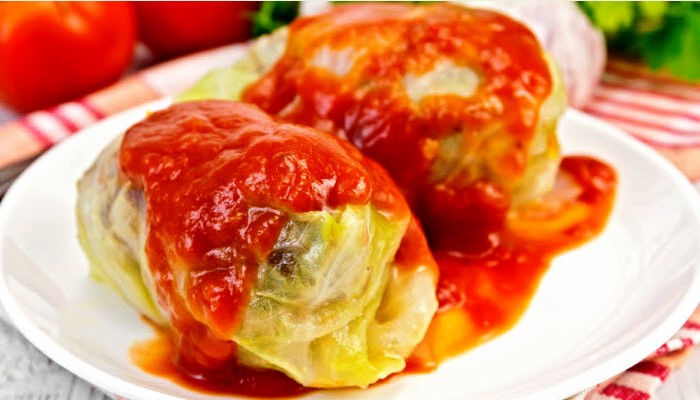 Old-Fashioned Stuffed (Holishkes) Cabbage
Our delicious stuffed cabbage recipe is sweet and tangy and will remind you of dinner at your Bubbie's. It is a perfect as perfect can be.
The Backstory: This recipe for stuffed cabbage is actually a variation of my Grandma's Sweet & Sour Meatballs recipe and I have to be honest–I've tweaked it over the years to suit my own tastes. It's not the original version that my grandmother, mother, and aunts have (deliciously) made for years and years, and I'm not quite sure why it's evolved (because their versions are fabulous), but nonetheless, you know how every generation tends to leave their own mark on things. Consider this one of those instances. More of the Backstory after the recipe…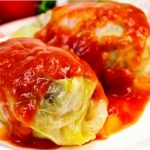 Stuffed Cabbage
Savory beef bundles are wrapped in cabbage leaves and simmered and a sweet & sour, tangy sauce until the cabbage is tender and the meat filling melts in your mouth.
Cook Time
1
hour
30
minutes
Total Time
2
hours
15
minutes
Ingredients
For the Sauce
1

small

onion

diced

1

can

condensed tomato soup

10 3/4 ounces

1

can

jellied cranberry sauce

14 ounces
For the Filling
1

large head

green cabbage

2

pounds

Kosher ground beef

85% lean or ground turkey

1

large

egg

1/4

cup

plain dried bread crumbs

unseasoned

4

slices

white bread, crusts removed, then pulsed into bread crumbs

1

tsp.

Kosher salt

1/2

tsp .

freshly ground black pepper

2

tsp.

fresh chopped parsley

1/2

cup

warm water
Instructions
Cook the Cabbage
Rinse cabbage and discard any dirty outer leaves.

In a large pot, boil cabbage until leaves start to peel away from the core. As they do, gently rotate cabbage so you can remove the leaves a few at a time, removing the entire cabbage from the pot of boiling water.

Place leaves on layers of paper towels or tea towels to dry and absorb excess moisture.

Continue this process until you have removed as many leaves as possible that will be usable (large enough to hold the filling and be rolled up).
Cook the Sauce
Add tomato soup and cranberry sauce and stir until well combined. Continue to cook on low to medium until the ingredients melt together, about five minutes. Reduce heat to low.

In another large (very deep) spaghetti or soup pot, cook the onions on low to medium heat. Do not use oil or butter in the pan, just cook the onion until it becomes translucent but not brown, for about 5-8 minutes. Reserve 1/2 cup of the sauce and set aside to cool.
Make the Filling
Mix all of the filling ingredients together and gently combine. Add the 1/2 cup of reserved sauce. Mix and set aside.

Place some of the filling in the cabbage leave. You will have to judge the amount because of the different sizes of the leaves. Roll up the leaves and place in the pot with the sauce mixture.

On a low heat cook the cabbage for about 1 1/4 hours. Stir the pot a little so that nothing sticks to the bottom. Baste the cabbage rolls with the sauce to keep them moist. Serve them hot,
…The Backstory continues:  While the recipes is pretty close to my grandmother's original, one of the things I have experimented the most with is the combination of dried breadcrumbs and fresh breadcrumbs mixture in order to get the filling as moist as possible. I ended up using a combination of both with some warm water to soften things up a bit. This seems to work best.
Another note: there are numerous ways to work with massive heads of cabbage and I've tried many of them including freezing the whole head before using it in order to have the leaves "break off" easier but I find that I still prefer the old fashioned way of simply boiling an entire head of cabbage in a large soup or spaghetti pot and taking off the cooked leaves one at a time and allowing each leave to dry on tea towels or layered sheets of paper towels before rolling up the meat bundles. Sure, this process is a labor of love, but one bite of this sweet, sour and savory dish makes every leaf-drying-act-of-love well worth the effort.
Please follow and like us: