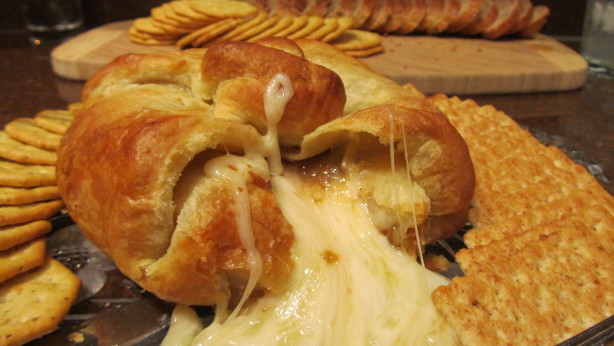 Baked Brie in Puff Pastry
Baked brie in puff pastry combine with tangy apricot preserves in this decadent (and spectacular) appetizer your guests will devour!
The Backstory: This recipe has absolutely no tie whatsoever to any Jewish folklore, story, or family history that I can find, however, it is one of the most delectable first courses, appetizers, and party- pleasers I could ever offer you, and for that, dear friends, it made the list of must-haves for The Jewish Kitchen. The fact that I made it the first time I invited fiance 2.0 over to my apartment (while he was still a boyfriend (a long story for another day…but, fyi, he was half-Jewish, and a certified foodie, so maybe it counts?) should tell you that this recipe has some magical powers. We didn't get married, but we did start a business which is still up and running (www.womensforum.com) so you see, a little baked brie in puff pastry goes a very long way…even if not to the altar. More of the Backstory after the recipe…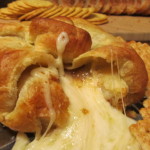 Baked Brie in Puff Pastry
This is the perfect showstopper appetizer for a cocktail party that will wow your guest but only takes minutes to make. Serve with a crisp white wine for an elegant start to a festive evening.
Ingredients
1

sheet

puff pastry

thawed (keep in refrigerator until ready to roll out)

medium

egg

1

tbsp.

water

1

8 0unce

wheel of Brie

1/4

cup

slivered almonds

2-3

tbsp.

apricot preserves

sliced green apples or pears

water crackers or other simple cracker
Instructions
Preheat oven to 400 degrees.

Line a baking sheet with a parchment paper.

Beat egg with water; set aside.

On a lightly floured surface, roll out pastry sheet to a 12-14 inch square. Place Brie in center of pastry sheet.

Brush edges of pastry sheet with egg mixture.

Spread apricot preserves on top of Brie. Gently pat down almonds on top of preserves.

Fold pastry over Brie to cover it completely. Brush the seams of the pastry with the egg mixture.

Turn Brie over and plate it on baking sheet, seam side down. Brush with remaining egg mixture.

Bake for 20-25 minutes or until golden brown. Let rest for 20 minutes before serving.
…The Backstory continues: Wait, what was this story about?
Once out of the oven, the Brie needs to rest for about 20 minutes so that once you slice into the puff pastry, it oozes gently–rather than gushes-out, and can be enjoyed on a tart green apple slice or a slice of a juicy pear. Equally delicious with water crackers (something mild so as to not compete with the richness of the Brie) or alongside some fruity grapes.
Please follow and like us: