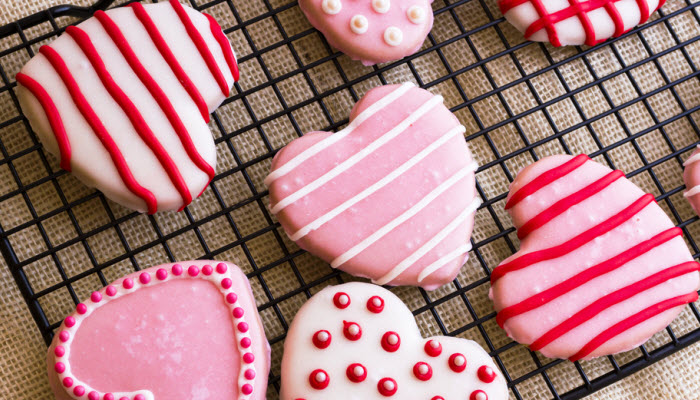 Sugar Cookies with Royal Icing
Sweet and scrumptious make this buttery cookie a fantastic treat.
The Backstory: First, two disclaimers: don't be discouraged because this recipe states that the prep time is 2 hours and 10 minutes: the dough has to chill for 2 hours! The recipe is actually a snap to make and most of the prep time is spent with the dough getting cold in the fridge! More of the Backstory after the recipe…
Sugar Cookies with Royal Icing
Crisp, lightly sweet sugar cookies are cut out and topped with royal icing for a perfect finish. These are delicious enough to be left un-iced and are just gorgeous when decorated for Hanukkah, Valentine's Day or any other special occasion.
Total Time
2
hours
16
minutes
Ingredients
1

cup

unsalted butter, at room temperature

do not use margarine

1

cup

sugar

2

eggs

1/2

tsp.

pure vanilla extract

1/2

tsp.

pure almond extract

3 1/4

cups

all-purpose flour

1/2

tsp.

baking powder

1/2

tsp.

baking soda

1/2

tsp.

Kosher salt

4

cups

confectioner's sugar

3

tbsp.

meringue powder

1/2

tsp.

lemon extract or vanilla extract

1/2 - 3/4

cup

warm water

food coloring, if desired
Instructions
For the Cookies
In a large bowl, combine butter, sugar, eggs, vanilla, and almond extract using an electric mixer on high high speed until light and fluffy.

In a separate bowl, combine flour, baking soda, baking powder and salt. Gradually stir the dry ingredients into the butter mixture until well-blended.

Cover bowl with plastic wrap and chill for 2 hours.

Preheat oven to 400 degrees.

Line cookie sheets with parchment paper. Do not grease cookie sheets.

Roll out dough on a lightly floured surface to 1/4 inch thickness and use cookie cutters to cut out shapes. Extra dough scraps can be re-rolled to make additional cookies.

Place cookies 2 inches apart on cookie sheets and bake for 5-6 minutes.

Allow cookies to cool completely on wire wracks before icing.
For the Royal Icing
Combine the confectioner's sugar and meringue powder in a large bowl.

Add water and your choice of extract and beat with electric mixer until desired consistency.

Add your choice of food coloring if desired.

Use icing immediately to decorate cookies or transfer to an airtight container or it will harden.
…The Backstory continues: Second, I have no idea where I got the recipe–I've had it for ages and it's my go-to for all things sugar/butter cookie. It's absolutely scrumptious and melt-in-your-mouth fabulous. I'd love to give credit where credit is due, but I've had this recipe written on the back of a blue envelope for about ten years in my recipe file. I cannot for the life of me, figure out where it's from. I wish to high heaven I could, so I could hug, kiss, and thank the person who have it to me. It's that good.
I make these cookies for any occasion that calls for cut out, cookie cutter cookies, whether it's Hanukkah, Valentine's Day, or just because. The cookie itself is not too sweet but has just enough sweetness to hit the spot. If you prefer a sweeter cookie, you can increase the sugar by 1/4 to 1/2 cup and keep all the other measurements the same. You can also leave these un-iced and just sprinkle with decorative sugar just before baking.
Enjoy!
Please follow and like us: