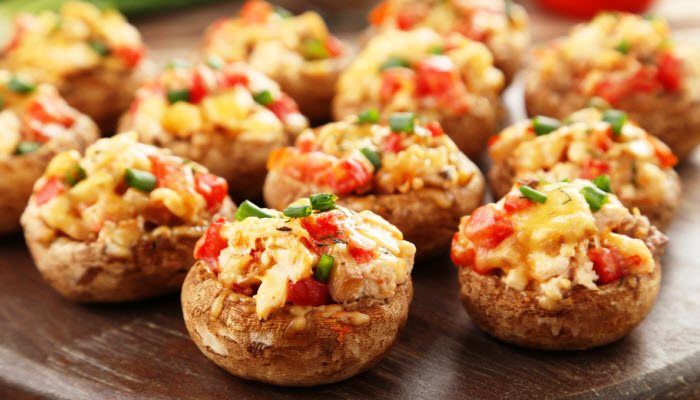 Classic Stuffed Mushrooms
Panko, parmesan, and savory herbs and spices make these classic stuffed mushrooms full of flavor and crunch.
The Backstory: Classic stuffed mushrooms are one of the easiest appetizers to make for a large crowd–they're inexpensive, quick to prepare, and just about everyone loves them. More of the Backstory after the recipe…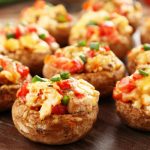 Stuffed Mushrooms
Earthy mushrooms are stuffed with a delicious mixture of bread crumbs, Parmesan cheese, herbs, and mushroom stems, and baked to perfection to make the perfect finger food for your next cocktail party.
Ingredients
24

large

white mushrooms

wiped clean and stems removed, reserve the stems

1/2

cup

chopped mushroom stems

1/2

cup

panko bread crumbs

1/2

cup

grated Parmesan cheese

2

tbsp.

chopped basil leaves

2

tbsp.

chopped flat leaf parsley

2

tbsp.

olive oil, plus more for drizzling

1

tsp.

Kosher salt

1/2

tsp.

freshly ground black pepper

chopped tomatoes or red pepper for garnish if desired
Instructions
Preheat oven to 400 degrees.

Spray a large baking sheet with non-stick cooking spray; set aside.

In a medium bowl, combine chopped mushroom stems, bread crumbs, Parmesan cheese, basil leaves, parsley, olive oil, salt and pepper. Toss lightly with a fork to gently combine the mixture.

Spoon filling into mushroom caps and place mushrooms on the baking sheet. Drizzle the tops of the mushroom caps with olive oil and bake for 25 minutes until golden brown.
…The Backstory continues: The first time I saw them was at a cousin's Bar Mitzvah back when I was a little girl and I remember how they were passed on a silver tray and gobbled up by everyone in sight. They seemed so elegant and way above my then ten-year-old food repertoire. Had I known just how delicious and accessible they were, I would have been wolfing them down along with 200 others who had no problem devouring everything in sight (what else is new?) that evening.
The recipe below calls for ordinary white mushrooms as they are sturdy and have a deep cavity for stuffing. Feel free to swap out your favorite herbs or cheese in exchange for those I've recommended–this is one of those recipes that's foolproof and easily flexible for mix and match testing, so use your creativity. Many versions of stuffed mushrooms call for sauteing sausages and adding that to the stuffing mixture, but Brooklyn Jewish girl that I am, I've never gone that route–the sausage bit just never worked for me, although I did not grow up in a Kosher household. If sausage is your thing, by all means, saute a few links of mild Italian sausage in olive oil and proceed with the rest of the filling as instructed below.
These little beauties are absolutely delectable served hot, warm (my preference) or at room temperature. You can stuff them early in the day and bake them off right before your party and they reheat nicely the next day as well (should you have any leftovers…which I doubt you will!)
Please follow and like us: