Our spiced pumpkin bread is a dense, moist loaf that's loaded with warm fall flavors. Perfect as a snack with coffee or tea or tucked in a lunch bag.
The Backstory: As you probably know by now, I have a love for all baked goods and growing up in and around my dad's bagel bakery, certainly helped to imprint a lifelong affinity for carbs, sweets, and baking into my DNA (no matter what the scientists might say, LOL). But more than anything, fall baking is at the tippy-top of this affinity list. Fall spices, flavors, and even fall colors put me on a sensory high that I simply cannot explain. It's not enough that the sight of my KitchenAid mixer and some fresh cinnamon sticks are enough to work me into a tizzy, but add some pumpkin and nutmeg to the equation and I've pretty much got the makings of a truly religious experience on my flour-covered hands. More of the Backstory after the recipe…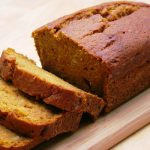 Spiced Pumpkin Bread
Packed with fall flavors and bursting with deep pumpkin color, this is the most scrumptious pumpkin bread you'll ever make. It's a cross between a cake and a bread and you'll eat it as a snack, dessert or any time you are craving the sweet and savory flavors of fall. It's just perfect.
Cook Time
1
hour
10
minutes
Total Time
1
hour
25
minutes
Ingredients
3

cups

sugar

1

cup

vegetable oil

3

large eggs

1

16 ounce can solid pack pumpkin

3

cups

all-purpose flour

1

tsp.

ground cinnamon

1

tsp.

ground cloves

1

tsp.

ground nutmeg

1/2

tsp.

Kosher salt

1/2

tsp.

baking powder

1

tsp.

baking soda

1

cup

coarsely chopped pecans or walnuts

Confectioner's sugar for dusting (optional)
Instructions
Preheat oven to 350 degrees. Butter and flour two 9x5x3 inch loaf pans.

In an electric mixer on medium-high speed, beat sugar and oil until combined. Add eggs, one at a time and mix well. Add in pumpkin and mix again.

In a separate bowl, sift together flour, cinnamon, nutmeg, cloves, salt, baking power and baking soda. Slowly add dry ingredients to pumpkin mixture with mixer on low speed, in two to three additions. Mix until combined. Do not over mix. If using pecans or walnuts, add them and mix until combined.

Divide the batter between the pans and bake for 1 hour and 10 minutes or until a tester inserted into the middle of the loaves comes out clean.

Transfer pans to wire racks to cool for 15 minutes. Use a sharp knife to loosen the loaves around the edges of the pans and turn them out to cool completely (about another 45 minutes or so).

Dust with Confectioner's sugar (if desired) and serve.
…The Backstory continues: For me, and I'm going to guess that for many of you, the true joy of baking (and cooking) comes in the giving and feeding of those we love and in the gifting of food as gifts from the heart. I could spend hours wrapping loaves of this sweet, rich (but not overly so), autumnally (new word!) delicious cake. I know, I know, it's called bread, but let's be real. It's cake, plain and simple. This recipe happens to be my go-to fall favorite. I've been making it since 1999 when I found it on Epicurious.com.
Once the Pumpkin Bread cools, I give it a healthy sprinkling of Confectioner's sugar, wrap it in simple wax paper or parchment, and tie it up with a wide orange or chocolate brown satin ribbon. And then I can't wait to give it to someone I love. It's simple, delicious, rustic looking, and guaranteed to make and keep a friend forever.
This recipe makes two loaves. They won't last long. Save one for yourself and your family and pass one along. I think they call that paying it forward. Only in carbs.
Please follow and like us: