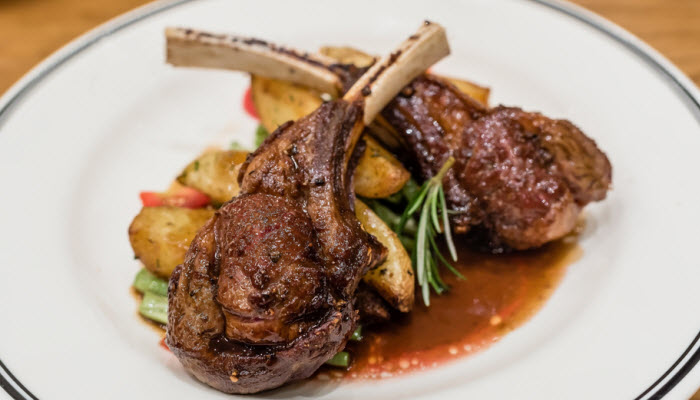 The Backstory: Lamb chops are one of my favorite meats. I don't know of anyone who would disagree with me.  Except my husband. You see, he was raised on baby lamb chops.  That is the one food he asked me to never cook.   He could not stand the odor from the chops being cooked.  I thought he was crazy. I love the aroma of the meat sizzling away.  So, I never made it when he was home. I sure as heck indulged in the chops when he was away. More of the Backstory after the recipe…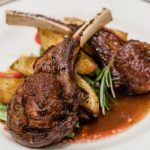 Lamb Chops
These chops are delicious with a savory hint of mustard and delicious seasoning. Serve with a baked potato or baked yams and green vegetable for a perfect meal for company.
Ingredients
4

shoulder lamb chops

or another cut of chops

1/4+

cup

canola or vegetable oil

1/2

tsp.

Kosher salt

1/2

tsp.

black pepper

1-2

tbsp.

yellow or Dijon mustard
Instructions
On one side only season chops with salt and pepper. Brush on a little mustard. Set aside.

Heat oil in heavy skillet on medium-high heat. Add chop, mustard side down. Brush a little mustard and add seasoning on top side. Cook for about 4 minutes. Turn and cook for another 4 minutes.

For chops to be cooked to medium, internal temperature should be 155 degrees. Put on a large platter. Let rest for at least 5 minutes before serving.
…The Backstory continues: I did however, air out the house, so there would be hardly a trace of what I cooked. He did not like garlic or onions either. Get the picture?  This dear man was probably one of the worst eaters you could ever encounter. I could go on about his culinary tastes, but I don't have enough space to do that properly. Yes, I did cook with garlic and onions, and I never put it on his plate. But when I didn't use those 2 items he would say "the food was missing something". Go figure.  It was a no win situation. Now however, when I attend a wedding or Bar/Bat MItzvah,  Lamb chop almost always are one of the pasted  hors  d'oeuvre.
Please follow and like us: