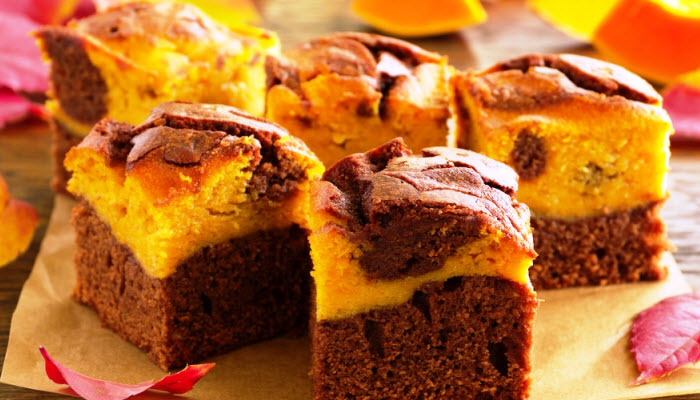 Chocolate Pumpkin Brownies
Creamy pumpkin and rich chocolate are perfect partners in our decadent and chewy, chocolate pumpkin brownies. YUM!
The Backstory: Brownies are a traditional American classic dessert, first made famous when Fanny Farmer put her recipe in her 1896 cookbook, The Boston Cooking-School Cookbook (seriously, who knew?). Believe it or not, good old Fanny's recipe was actually a blondie, and had no chocolate in it whatsoever! Talk about confusion! Years later, several other cookbook authors, chefs, and restauranteurs claimed to have created the brownie, either by accident (oops, I spilled some chocolate in that recipe, and now it's brown), or on purpose, and were left to quibble over who actually had the rights to the first brownie. More of the Backstory after the recipe…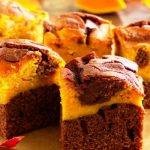 Chocolate Pumpkin Brownies
Rich, decadent brownies take on fall flavors with the addition of pumpkin, cinnamon and ginger for a delicious, sweet treat. These brownie bars are perfect for a Sukkot or Thanksgiving celebration and even better when topped with a scoop of vanilla ice cream.
Ingredients
For the Chocolate Brownie Batter
1

cup

unsalted butter

4

squares

unsweetened chocolate

2

cups

sugar

3

eggs

1

cup

all-purpose flour

1/2

tsp.

Kosher salt

1

tsp.

pure vanilla extract
For the Pumpkin Batter
1

tbsp.

unsalted butter, at room temperature

3

ounces

cream cheese, softened

1

large egg

1/2

cup

sugar

1/3

cup

canned pumpkin puree

1

tsp.

pure vanilla extract

1/2

tsp.

ground cinnamon

1/2

ground ginger

1

tbsp.

all-purpose flour

Confectioner's sugar for dusting (optional)
Instructions
Preheat oven to 350 degrees. Grease a 13 x 9 baking pan.

Prepare the chocolate batter: In 2-quart heavy saucepan over low heat, melt butter and chocolate. Use a wire whisk or spoon and beat in 2 cups sugar and 3 eggs until well combined. Use a wooden spoon to stir in flour, salt and vanilla. Pour evenly into prepared pan and set aside while you make the pumpkin batter.

Prepare the pumpkin batter: Using an electric mixer, beat the butter with the cream cheese until smooth. Beat in the sugar, scraping the bowl occasionally.

Beat in the egg and then add the pumpkin, vanilla, cinnamon and ginger. Stir in the flour.

With a large spoon, drop dollops of pumpkin batter mixture over the top of the chocolate batter. Using the tip of a knife, lightly score top surface in a crisscross pattern.

Bake for 40-45 minutes until toothpick inserted into middle of pan comes out clean. Cool on rack for at least 45 minutes and cut into bars. (You can also cool in fridge after letting the brownies cool on the rack for about 30 minutes. Letting them cool in the fridge will make them easier to cut). Dust with Confectioner's sugar if desired.
…The Backstory continues: Either way, the brownie was born and since then, it's been love at first bite. Whether topped with vanilla ice cream, mixed with nuts, or just perfectly plain and simple, you can't really go wrong when you present your kids (big and fully grown) with a homemade brownie. Come to think of it, I've known a few grown men to go weak at the knees at the sight of freshly-baked brownies, especially those with some really chewy edges.
While we typically don't associate brownies with any particular American or Jewish holiday, these brownies can serve double duty: both at Sukkot and at Thanksgiving when all kinds of squash and gourds (pumpkin) are typically eaten to celebrate the abundance of fall, bountiful harvests and the blessing of nature. And let's not forget, our Jewish tradition of feeding our families until we simply cannot move after a meal.
And to this I say, one more reason to bring on the brownies.
Please follow and like us: