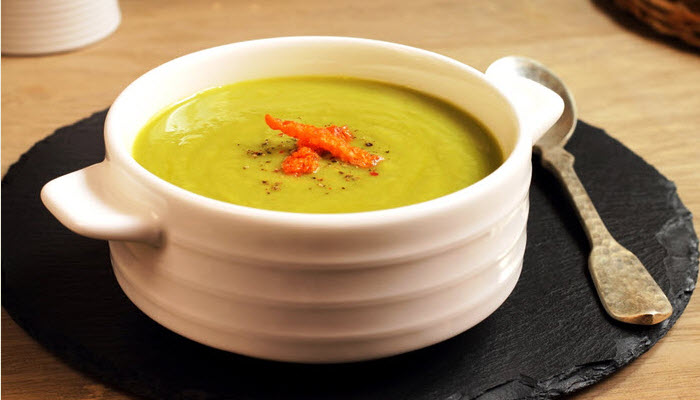 The Backstory: I cannot remember a time when this velvety soup was not served for a holiday dinner.  My mom never measured anything, and here I am trying to convert her favorite answer to my question, "how much of this or that" to her recipes.  Believe it or not, I just finished measuring how many ounces are in a standard glass of water in order to write this recipe, as that was her way of knowing how much liquid to use. More of the Backstory after the recipe…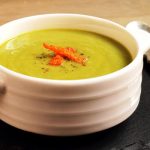 Split Pea Soup
Delicious and hardy, this soup will please your family and guests. The aroma of the herbs and seasonings give it and extra kick. Besides serving the soup in a bowl, put it in a pretty mug. Add a bread stick and sit back and relax while you are watching a special event on TV.
Total Time
1
hour
20
minutes
Ingredients
1

6 oz. package of Manschewitz Split Pea with Seasoning Soup Mix

also try with barley

1

12 oz. package of dried green split peas

Use only 4-5 ounces.

8+

cups

water

1

large

white potato cut in small chunks

sweet potato can be subsituted

2

medium - large carrots peeled and cut in small chunks

1

medium onion cut in small chunks

1/2

tsp.

Kosher salt

1/4

tsp.

pepper

5

sprigs

fresh parsley

using string, tie the parsley and dill together.

5

sprigs

fresh dill
Instructions
In a large pot boil 8 cups water. Add salt and pepper.

In a bowl, put 4-5 ounces of split peas. Rinse split peas and then add water to cover them. Set aside.

In a blender add a little water, place some of the veggies, (potato, carrot, and onion) and blend until smooth. This process will take several batches. Add some water with each batch that you process. Put in a bowl until all is processed.

When water comes to a boil, add all the veggies. Drain the split peas and then add them to the pot. Add the package of soup mix. (Not the pack of the seasoning). Cover and cook on low heat for about 1-1/4 hours, stirring often to make sure veggies don't stick to the bottom of the pot.

Add the seasoning from the package to the soup. Add parsley and dill. Cover and cook another 15 minutes. Check seasoning and adjust to your taste.

Remove from heat. Remove the dill and parsley. Cool and then blend using a hand blender to desired texture. Serve and enjoy.
.
…The Backstory continues: It was the same with all of her recipe ingredients.  Her stock answer to all recipe questions was "you'll adjust later." And with all of my recipes. I find myself repeating the exact same mantra. So, guess what? Now I have become my mother. Oh, how I wish.
Please follow and like us: