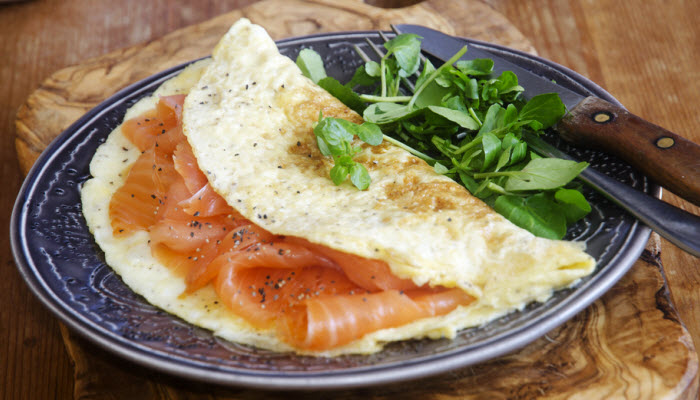 Jazz up brunch with a smoked salmon omelette for an elegant twist on eggs. This delicious meal cooks in ten minutes and also makes a fabulous light dinner.
The Backstory: This delicious smoked salmon omelette is a perfect way to show off the slight salty taste of fresh smoked salmon for a savory breakfast that's hard to beat. You don't need too much salmon to get your point across here–even a slice of Nova will do the trick and the results will be spectacular. In fact, the salmon is savory enough to stand up to egg whites, if you prefer them to whole eggs. I like to pair this with a few slices of very ripe tomatoes to balance the savoriness of the salmon and a slice or two of rye toast. This to me, is heaven on a plate. More of the Backstory after the recipe…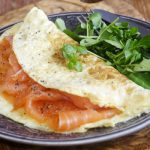 Smoked Salmon Omelette
Savory, slightly salty smoked salmon (say that three times!) is folded into an omelette for a perfect savory breakfast. Serve with toast and sliced tomatoes for a wonderful start to your day or for a fabulous Sunday brunch.
Ingredients
1

tsp.

butter

or non-stick cooking spray

1-2

tbsp.

chopped onion (as desired)

2

eggs

use large eggs or 3 large egg whites

2

slices

Nova or other smoked salmon

2-3

slices

very ripe tomatoes

2

slices

rye bread or other bread as you prefer

Kosher salt and pepper

2 sprigs of dill (for garnish) if desired
Instructions
In a large skillet skillet, melt the butter on medium heat or spray skillet with no-stick spray. Add onion and saute for 3-5 minutes until translucent, stir occasionally. While the onions are cooking, beat eggs in small bowl and add a pinch of Kosher salt and pepper.

Add eggs to pan and let them sit for a few minutes. In the meantime, slice tomatoes and arrange them on a plate and put toast in the toaster.

When eggs look like they have firmed up a little on the pan, use rubber spatula to go around the edges of the omelette to allow the uncooked part of the omelette to slide underneath the cooked part, so it can cook. Continue this process until the top of the omelette looks fully cooked. Add the sliced smoked salmon and flip omelette over halfway and continue to cook for 3-4 more minutes to warm the salmon in the eggs, and to finish cooking the omelette, while you make the toast.

Make the toast and prepare as desired. Slide omelette onto serving plate and remove toast from toaster. Garnish omelette with dill (if desired).
NOTE: This recipe makes one omelette. You can easily double the recipe to serve two people and simply cut the omelette in half for two servings, or prepare this using two small skillets, side by side (for two servings).
Please follow and like us: