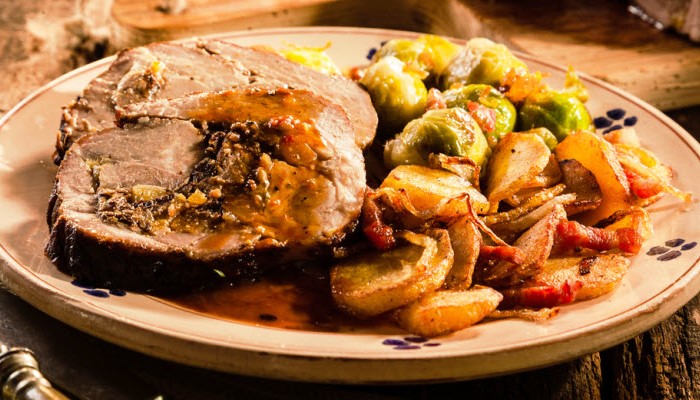 Stuffed London Broil is an elegant dish that teases you with savory stuffing that peeks out thru tender meat. It's hearty and perfect for cooler months.
The Backstory: I have prepared more stuffed London Broils in my time, than I can even count. I have made them with Flank Steak or from my Kosher butcher who recommended the whole Minute Steak, which he cut horizontally for me.  At one point I had about 24 Minute Steaks in my freezer. That sounds like a lot but let me explain–I actually had good reason for this. More of the Backstory after the recipe…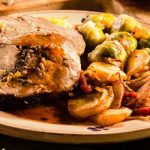 Stuffed London Broil
Brown on the outside and cooked to perfection on the inside. The delicious stuffing emits a tempting aroma that lets you know your are in for a spectacular meal.
Total Time
1
hour
15
minutes
Ingredients
2

lbs.

Kosher London Broil

3

tbsp.

oil

3

tbsp.

chopped onions

1

carrot, peeled and grated

1/4

cup

chopped celery

2 1/2

cups

challah, cut into small cubes

remove crust

1/2

tsp.

Kosher salt

1/4

tsp.

black pepper

4

ounces

can of mushrooms, reserve the liquid.

2

tbsp.

flour

1

tsp.

dried parsley flakes

your choice of herbs
Instructions
Preheat oven to 350 degrees. In a Dutch oven heat 2 tbsp. of oil. Add the onions, celery, carrot and garlic. Saute until tender. Remove from heat. Add the bread, salt, pepper, and mix.

Pat the steak dry and score both sides, cutting in about 1/8 of an inch. Take the bread mixture and place on the center of the steak lengthwise. Roll up the steak and use skewers to hold it together.

In the Dutch oven heat 1 tbs. oil. Add the steak and brown on all sides. Add the mushrooms and their liquid over the top of the steak. Cover and place in the oven. Bake for 1 1/2 hours.

Place steak on a large platter. Pour the mushrooms and the liquid into a bowl. If there is any fat skim it off. Take about 1 cup of liquid and and put it back in the pot on top of the stove.

Mix the flour with 2 tbs. of water. When smooth add it to the pot. Stir and bring to a boil. Lower heat and cook for a minute or two. Slice meat and serve with the gravy.
…The Backstory continues: In the fall of 1981, around the time of my son's Bar Mitzvah, I had 11 people staying in my home. This was a joyous time for my family.  My nephew was also having his Bar Mitzvah a week before.  So my sister and I each had a houseful of relatives from all over the country and Canada. I grilled most of the steaks over a two week period.  I also grilled hot dogs, hamburgers and chicken. I gave my company many choices.
But back to the stuffed kind of steak that I made for my husband and me many times.  I usually served a vegetable and some kind of potato with this.  I don't know were I got this basic recipe but I am going back to the late 1950s, early 1960s.  Whoever gave this to me, thank you.
Please follow and like us: