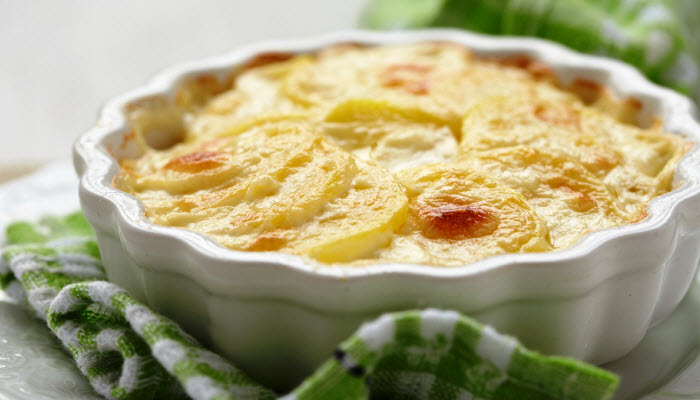 The Backstory: This is my version of Scalloped Potatoes.  I could eat this for 3 meals a day and never tire of it.  It is creamy, very tasty  and just mouth watering. Not many people would go gaga over potatoes, but I would. I started making this kind of potatoes when I got bored with boiled, baked or fried potatoes. More of the Backstory after the recipe…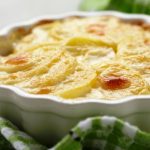 Scallop Potatoes
I like to use a large pie plate to bake and serve the scallop potatoes. It is very pleasing to the eye. Most people eat with their eyes before their mouths. This is easy to prepare with most ingredients that cooks have in their pantry. Enjoy the crunch on top and indulge with the creamy filling inside.
Ingredients
4

large

potatoes

peeled and sliced into 1/4 inch rounds

4-6

ounces

unsalted butter

You may need more

1/2 +

cup

grated Parmesan cheese

You may need more

Kosher salt and pepper to taste

1/2+

cup

Whole milk
Instructions
Preheat oven to 350 degrees.

Grease a large glass pie dish or other kind of baking dish with a little butter to coat bottom of pan.

Layer sliced potatoes.

Cut butter into small pieces. Dot on potatoes.

Sprinkle on grated cheese and salt and pepper.

Repeat layers.

Pour milk into a cup with a spout. Pour around the sides of the dish until it reaches about 1/3 up the sides.

Bake uncovered 35-45 minutes. Do not let the top layer burn. It should look brown and crispy, when done. Put a toothpick in to check for softness of the potatoes.
…The Backstory continues:  My husband liked this because of the crunchy top and the creamy filling. To me potatoes are comfort food.  I was raised on meat and potatoes.  It didn't matter what was served, you could always count on mashed potatoes to be a side dish.  My mom's potatoes were usually lumpy and not very tasty, except for the salt.  I was determined never to serve lumpy potatoes, and if I do say so, I make it without lumps, creamy and tasty. I started making these scalloped potatoes early in my marriage. Everyone who had them usually requested that I would serve them again when they visited. I did and I would come up with different types of a main dish and side. But no matter what I made these potatoes were the first to be devoured.
Please follow and like us: